Sirannon Gate
Jump to navigation
Jump to search
"I like this land. It reminds me of the twilit wilds, far away in the North, where my heart remains." - Calenglad
Location Stub
This article or section is marked for missing location information.
Please visit Create new location and help expand knowledge about this wondrous place.
Needs Landmark Infobox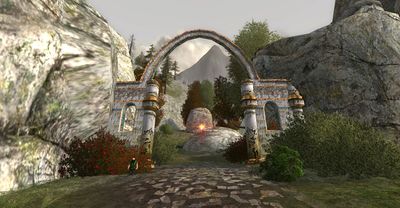 Location
This ancient gate marks the entrance to The Walls of Moria. The dwarf Ráthwald is standing next to it, trying to recruit all adventurers passing by for the cause of reclaiming Khazad-dûm for the dwarves.