Mayor Will Whitfoot
Jump to navigation
Jump to search
| | |
| --- | --- |
| | Mayor Will Whitfoot |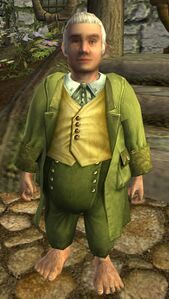 Description
Mayor Will Whitfoot is the Mayor of Michel Delving, and therefore of the Shire. He is found just outside the Town Hole.
During the Farmers Faire Mayor Will Whitfoot is also found at Bywater square, in front of the great dinner table. It is often said that Will Whitfoot is the fattest hobbit in the Westfarthing. Maybe the faire is to blame?
After an incident in which a part of the Town Hole roof collapsed covering the Mayor in white chalk, many in the Shire started calling him "Old Flourdumpling" as he resembled a large flour-covered dumpling.
The only real official in the Shire at this date was the Mayor of Michel Delving (or of the Shire), who was elected every seven years at the Free Fair on the White Downs at the Lithe, that is at Midsummer. As mayor almost his only duty was to preside at banquets, given on the Shire-holidays, which occurred at frequent intervals. But the offices of Postmaster and First Shirriff were attached to the mayoralty, so that he managed both the Messenger Service and the Watch. — The Fellowship of the Ring: Prologue
Quest Involvement
Quotes
'Oh, bother all Sackville-baggins!'
'I don't see what all the fuss is about. I think I am perfectly-suited to be mayor!'
External References