Item:Universal Toolkit
Jump to navigation
Jump to search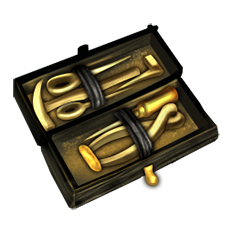 Universal Toolkit
Item Level: 11
+20% Weaponsmith Critical Chance
+20% Woodworker Critical Chance
-3s Prospector Mining Duration
+20% Tailor Critical Chance
+20% Cook Critical Chance
+20% Scholar Critical Chance
+20% Jeweller Critical Chance
-3s Farmer Harvesting Duration
-3s Forester Chopping Duration
+20% Metalsmith Critical Chance
-3s Scholar Researching Duration

 

Substantial
Durability 45/45

 

"A sturdy set of tools, useable by any crafting profession."

 
Item Information
A toolkit useable by any crafting profession.
Use this crafting toolkit across all your characters on a single World! This toolkit can be used by any crafting profession and is bound to your account therefore it can be shared between all characters on the same account and server. Note: You must have access to Shared Storage to share the toolkit.
The Universal Toolkit's buffs (statistics) are now only exceeded once a character reaches level 55 and can use better tools crafted for their vocation by a Metalsmith's Guild member - the Supreme Tier 6  

Superior Tools of the Supreme Armsman

.