Item:Anniversary Keg
Jump to navigation
Jump to search

Anniversary Keg
Decoration Category: Large Furniture

 

On Use:

Drinking this brandy may not be the safest thing you could do.

Duration: 10s
Applied on expiration:

You feel a bit woozy... more brandy will solve that!


Duration: 15s

 

 

"This keg is filled to the brink with one of Waldo' Rumble's home brews... This is certainly an untested batch so drink at your own risk."

 
Festival Information
This item is available during LOTRO Anniversary Celebrations since 2017.
The Anniversary Keg is a reward for completing the Ten Years in Middle-earth deed.
Effect Information
Drinking from the keg applies the effect

 Party Time.
Gallery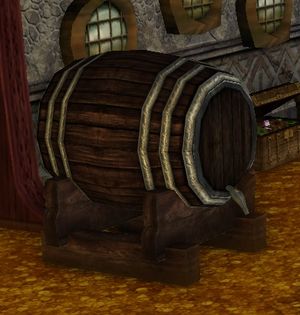 Drunken Destinations
Once the furniture is used, the player will be endowed with the buff

 Party Time. When the buff expires, the player will collapse and then be teleported to one of several random locations in Middle Earth:
It is also possible you may get ported without any pants on

 Huh? Where's my pants?.
Need more locations, this isn't the full list