Gazatmur
Jump to navigation
Jump to search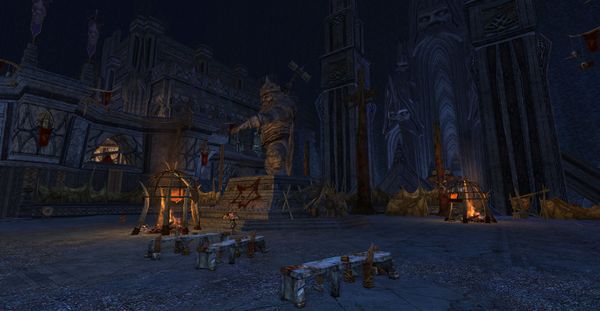 Location
Gazatmur is a landmark east of the Dolven-view within the Great Delving of Moria. [7.6S, 111.4W]
Once a grand plaza, Gazatmur is now nothing but a large goblin encampment.
Deeds
The following deeds can be obtained by visiting this location:
Quests
Starting
Involving
Mobs
The following creatures are found within this area:
Lore
The grand plaza of Gazatmur was once the heart of the Great Delving, surrounded by some of the most prestigious institutions and finest architecture within Khazad-dûm. This was from where the three paths out of the proud gates in The Great Delving meet. At the center stands a towering statue of a Dwarf-lord heaving a hammer above his head for an overhand blow. The Goblins' time in Moria cannot be ignored, but it may be overcome. For as long as Goblins and the Enemy have laid claim to Khazad-dûm, that statue has stood, hammer up, ready to strike back.