Ambassador Spakorth
Jump to navigation
Jump to search
"Who was that you were looking for? ...oh, Strider, yes!" - Barliman Butterbur
NPC Stub
This article or section is marked for missing content.
Please Create new NPC or add any missing information.
Need information on Spakorth in Dor Amarth
| | |
| --- | --- |
| | Ambassador Spakorth |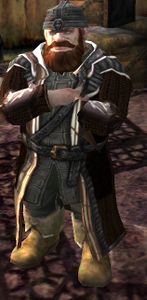 Description
Ambassador Spakorth is the Ambassador to the King Under the Mountain in Erebor from the surviving Stout-axe Dwarves of Mordor.
He was vouched for and brought to Erebor by Gimli following the madness of King Váskmun Greytooth of the Stouth-axes; who, in his lust for the Dwarf-ring, Manthríf, transformed the Stout-axes into the Firehorns and led them into the Abyss of Mordath.
Quest Involvement
Mordor The Stout-axes and Firehorns quest arc
Erebor