Agshar-mazal
Jump to navigation
Jump to search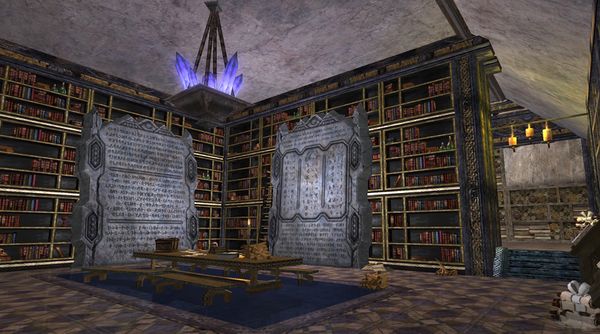 Agshar-mazal, the Scholar's Abode is a library within Tumnu-dûm, the Dwelling-halls of Erebor. [14.4N, 137.2W] It is also referred to as Mazalu Ugshar.
It contains a number of interesting artifacts, some of which are described in more detail below.
Notably, it is the site of two large rune-stones, which provide the key to deciphering the runes of the Zhélruka dwarves that can be seen in other parts of the game world.
Location
Agshar-mazal is hidden in an out-of-the-way corner of the Dwelling-halls. To reach it, start outside Nori's Home [14.0N, 137.1W] and head north along the ledge on the western edge of the Dwelling-halls.
Quests
NPCs
Artifacts
These are some of the curious artifacts that can be found within Agshar-mazal.
Cipher-stone
Edda-stone
Small Rune-stone
The Small Rune-stone in the back reads "Azanturas" which implies it was taken from The Foundations of Stone in Moria. As this is the same name inscribed in the Dark Delving runestone.
Miniature Device
pending
Background
Agshar-mazal is Neo-Khuzdul (using The Dwarrow Scholar dictionary content) and literally means "scholar-chamber". A minor error seems to have been introduced here however, as it uses the non-person-form "agshar", while (seeing it refers to a person) should have been "ugshar". The Grár's Seal quest uses this form when referring to the chamber.
External Links