Shadows of Angmar - Official Game Soundtrack
Jump to navigation
Jump to search
Shadows of Angmar - Official Game Soundtrack
Modified version of Special Edition art
Chance Thomas
Released
April 24, 2007
Length
45:35
Label
Turbine, Inc.
LotRO Soundtrack Chronology

Shadows of Angmar - Official Game Soundtrack is the official soundtrack album for the Shadows of Angmar, composed by Chance Thomas. The soundtrack was released on April 24, 2007, as part of the Shadows of Angmar: Special Edition.
The track "Far Ahead the Road Has Gone" was the original main theme for LotRO, played on the character selection screen until 2012 when it was replaced by "LotRO Legacy" from the Riders of Rohan soundtrack.
Production and Release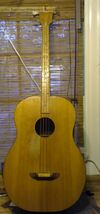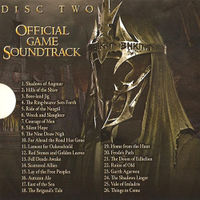 Chance Thomas' involvement began in 1998, when Sierra On-Line started developing Middle-earth Online, the game that through many revisions would eventually become Lord of the Rings Online. As the game went through different companies and developers, Thomas remained involved until finally recording the music for the game when Turbine took over. At least some of the music written early on ended up in the final release of the game, including the music for Rivendell, "Red Stones and Golden Leaves."
To prepare for creating this music, Chance Thomas studied the Lord of the Rings books, searching for any and all information relating to music and how it connected to the various races. He took all this information and put it together as the Tolkien Music Style Guide. This Guide he used in the creation of all LotRO music, extending to his future work on the series as well. Some of the music was recorded with a 65-piece orchestra and 24-voice choir, while other music used small ensembles. For instance the Shire had music using the penny whistle, mandolin, hammer dulcimer, papoose, and fiddle, Dwarven music using cello, English horn, clarinet, tuba, and wire strung harp, or Elven music using concert pedal harp, solo voice, and flute. After this Thomas brought back various soloists and recorded hundreds of solo variations of the main themes and put the best ones in the game. Near the end of the project Thomas had to use digital samples for various tracks as the budget for live instruments ran low.
The solo guitar tracks on the soundtrack were all composed and performed by Geoff Scott, whose official role at the time was "Director of Audio, Video and Visual Effects". The track Home from the Hunt was performed on an Ernie Ball Earthwood Acoustic Bass.
Brad Spear's "Silent Hope" uses Chance Thomas' theme from "Hills of the Shire" as a basis for the track.
This soundtrack was released on April 24, 2007, exclusively as part of the Shadows of Angmar: Special Edition in the US and the Shadows of Angmar: Collectors Edition from Codemasters in Europe.
Track Listing
Composers are listed with each track. Tracks 1, 4, 9, 14, 20, and 24 contain the voice of Harry Chase as Gandalf.
"Shadows of Angmar" (Stephen DiGregorio) - 0:51
"Hills of the Shire" (Chance Thomas) - 1:09
"Bree-Land Jig" (Geoff Scott) - 2:01
"The Ring-Bearer Sets Forth" (Stephen DiGregorio) - 0:24
"Ride of the Nazgul" (Stephen DiGregorio) - 0:50
"Wreck and Slaughter" (Brad Spear) - 1:21
"Courage of Men" (Stephen DiGregorio) - 2:11
"Silent Hope" (Brad Spear, theme by Chance Thomas) - 1:42
"The Nine Draw Nigh" (Stephen DiGregorio) - 0:24
"Far Ahead the Road Has Gone" (Stephen DiGregorio) - 2:22
"Lament for Oakenshield" (Chance Thomas) - 2:27
"Red Stones and Golden Leaves" (Chance Thomas) - 1:46
"Fell Deeds Awake" (Stephen DiDgregorio) - 3:45
"Scattered Allies" (Stephen DiGregorio) - 0:22
"Lay of the Free Peoples" (Geoff Scott) - 1:55
"Autumn Ale" (Geoff Scott) - 1:15
"East of the Sea" (Geoff Scott) - 1:03
"The Brigand's Tale" (Geoff Scott) - 2:19
"Home From the Hunt" (Geoff Scott) - 2:18
"Frodo's Path" (Stephen DiGregorio) - 0:24
"The Doom of Edhelion" (Stephen DiGregorio) - 2:05
"Ruins of Old" (Stephen DiGregorio) - 2:26
"Garth Agarwen" (Stephen DiGregorio) - 3:19
"The Shadows Linger" (Chance Thomas) - 0:24
"Vale of Imladris" (Chance Thomas) - 3:05
"Things to Come" (Chance Thomas) - 3:40
Personnel
Chance Thomas
Brad Spear
Stephen DiGregorio
Utah Film Orchestra
Salt Lake Choral Artists
Harry Chase - Voice of Gandalf
Geoff Scott - Audio Director, guitar
Daron Bradford - Penny whistle, Irish whistle, recorder, tin whistle
Andrew Scott - Highland pipes
Gael Shults - Hammer dulcimer
Aaron Ashton - Fiddle
Janet Anderson - Fiddle
Holly Gornick - English horn
Jenny Jordan - Voice
Dona Kay Flint - Music Contractor
Daniel Greenberg - Creative Director
Scott Cuthbertson - Creative Director
Glen Neibur - Chief Recording Engineer
Steve Lerud - Engineer
External Links