Rinwald
Jump to navigation
Jump to search
| | |
| --- | --- |
| | Rinwald |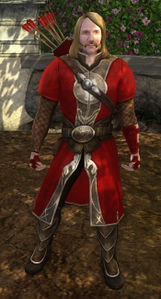 Description
Rinwald is a Rohir helping to rebuild Hytbold, in the Sutcrofts of East Rohan. He bestows the daily wrapper quest for Hytbold, and also barters for housing items as the player completes various buildings.
Quest Involvement
Barters
Barterer: Rinwald exchanges

 Token of Hytbolds. His barter list has corresponds deeds for rebuilding Hytbold. Items in a section will only be available for barter once the matching deed is complete.
Mead Hall - Interior
Item to Receive
Items to Trade
 

Rohirric Moose Antler Chandelier

5 Tokens of Hytbold
 

Full Rohirric Tapestry

5 Tokens of Hytbold
 

Long Rohirric Tapestry

5 Tokens of Hytbold
 

Short Rohirric Tapestry

5 Tokens of Hytbold
 

Small Rohirric Tapestry

5 Tokens of Hytbold
Mead Hall - Exterior
 

Standard Rohirric Horse Post

5 Tokens of Hytbold
 

Tall Rohirric Horse Post

5 Tokens of Hytbold
 

Rohirric Double Horse Post

5 Tokens of Hytbold
The Smithy
 

Barrel of Rohirric Horseshoes

5 Tokens of Hytbold
 

Triangular Rohirric Barricade

5 Tokens of Hytbold
 

Tiny Rohirric Barricade

5 Tokens of Hytbold
 

Standing Rohirric Spears

5 Tokens of Hytbold
Tents - Entwash
 

Fancy Rohirric Chair

5 Tokens of Hytbold
 

Rohirric Chair and Shield

5 Tokens of Hytbold
 

Entwash Vale Tent

5 Tokens of Hytbold
Tents - Wold
 

Fancy Rohirric Chair with Moose Antlers

5 Tokens of Hytbold
 

Rohirric Chair and Three Shields

5 Tokens of Hytbold
 

Wold Tent

5 Tokens of Hytbold
Tents - Norcrofts
 

Rohirric Chair with Intricate Antlers

5 Tokens of Hytbold
 

Rohirric Chair and Two Shields

5 Tokens of Hytbold
 

Norcrofts Tent

5 Tokens of Hytbold
Tents - Sutcrofts
 

Plain Rohirric Chair

5 Tokens of Hytbold
 

Rohirric Chair and Large Shield

5 Tokens of Hytbold
 

Sutcrofts Tent

5 Tokens of Hytbold
Tower - Entwash
 

Rohirric Antlers

5 Tokens of Hytbold
 

Rohirric Moose Antlers

5 Tokens of Hytbold
 

Entwash Vale Shield Rack

5 Tokens of Hytbold
Tower - Wold
 

Intricate Rohirric Antlers

5 Tokens of Hytbold
 

Rohirric Mounted Deer

5 Tokens of Hytbold
 

Wold Shield Rack

5 Tokens of Hytbold
Tower - Norcrofts
 

Group of Rohirric Antlers

5 Tokens of Hytbold
 

Rohirric Mounted Stag

5 Tokens of Hytbold
 

Norcrofts Shield Rack

5 Tokens of Hytbold
Tower - Sutcrofts
 

Large Rohirric Antlers

5 Tokens of Hytbold
 

Rohirric Mounted Longhorn

5 Tokens of Hytbold
 

Sutcrofts Shield Rack

5 Tokens of Hytbold
Lumber-mill
 

Tapped Rohirric Keg

5 Tokens of Hytbold
 

Tapped Rohirric Mini-keg

5 Tokens of Hytbold
 

Large Rohirric Cask

5 Tokens of Hytbold
 

Set of Rohirric Casks

5 Tokens of Hytbold
 

Covered Rohirric Waggon

5 Tokens of Hytbold
 

Rohirric Waggon

5 Tokens of Hytbold
Armoury
 

Rohirric Five Shield Set

5 Tokens of Hytbold
 

Rohirric Three Shield Set

5 Tokens of Hytbold
 

Large Rohirric Barricade

5 Tokens of Hytbold
 

Small Rohan Barricade

5 Tokens of Hytbold
Study
 

Big Rohirric Antler Chandelier

5 Tokens of Hytbold
 

Large Rohirric Antler Chandelier

5 Tokens of Hytbold
 

Small Rohirric Antler Chandelier

5 Tokens of Hytbold
 

Rohirric Double-swing Window

5 Tokens of Hytbold
Gates
 

Rohirric Bench

5 Tokens of Hytbold
 

Simple Rohirric Chair

5 Tokens of Hytbold
 

Rough Rohirric Chair

5 Tokens of Hytbold
 

Decorative Rohirric Bench

5 Tokens of Hytbold
 

Fancy Rohirric Bench

5 Tokens of Hytbold
House - Wold 1
 

Rohirric Shelf

5 Tokens of Hytbold
 

Shelf of Rohirric Platters and Dishes

5 Tokens of Hytbold
 

Wooden-framed Rohirric Double-swing Window

5 Tokens of Hytbold
 

Rich Rohirric Bookcase

5 Tokens of Hytbold
 

Rich Rohirric Stilted Credenza

5 Tokens of Hytbold
House - Wold 2
 

Shelf of Stacked Rohirric Mugs

5 Tokens of Hytbold
 

Rich Rohirric Bed

5 Tokens of Hytbold
 

Framed Rohirric Double-swing Window

5 Tokens of Hytbold
 

Rough Rohirric Bookcase

5 Tokens of Hytbold
House - Norcrofts 1
 

Full Shelf of Rohirric Mugs

5 Tokens of Hytbold
 

Shelf of Rohirric Pots

5 Tokens of Hytbold
 

Shuttered Rohirric Double-swing Window

5 Tokens of Hytbold
 

Rich Rohirric Bureau

5 Tokens of Hytbold
 

Rich Rohirric Cupboard

5 Tokens of Hytbold
House - Norcrofts 2
 

Short Shelf of Rohirric Mugs

5 Tokens of Hytbold
 

Rough Rohirric Bed

5 Tokens of Hytbold
 

Fancy-shuttered Rohirric Double-swing Window

5 Tokens of Hytbold
 

Rough Rohirric Bureau

5 Tokens of Hytbold
House - Sutcrofts
 

Shelf of Rohirric Pans and Platters

5 Tokens of Hytbold
 

Short Shelf of Rohirric Pots

5 Tokens of Hytbold
 

Rich Rohirric Sleigh Bed

5 Tokens of Hytbold
 

Rich Rohirric Credenza

5 Tokens of Hytbold
 

Rough Rohirric Stilted Credenza

5 Tokens of Hytbold
House - Entwash
 

Cluttered Shelf of Rohirric Platters and Dishes

5 Tokens of Hytbold
 

Small Rohirric Shelf

5 Tokens of Hytbold
 

Rough Rohirric Sleigh Bed

5 Tokens of Hytbold
 

Rough Rohirric Credenza

5 Tokens of Hytbold
 

Rough Rohirric Cupboard

5 Tokens of Hytbold
Furniture Gallery