Morfuin
Jump to navigation
Jump to search
This page is about the Darkling in the skirmish Rescue in Nûrz Ghâshu. For the Wight in the Lone-lands, see Morfuin (Lone-lands). 
Advanced Stats
Alignment: ( Evil )
Combat Effectiveness:
Finesse:

Feeble

F.M. Immune:

False

Stun/Mez Imm.:

False

Root Immune:

False

Resistances:
Cry:

Good

Song:

Good

Tactical:

Good

Physical:

Good
Mitigation:
Common:

Remarkable

AncientDwarf:

Remarkable

Fire:

Remarkable

Beleriand:

Superior

Light:

Remarkable

Westernesse:

Remarkable

Shadow:

Remarkable

Frost:

Remarkable

Lightning:

Remarkable
Level of Lore-master reporting: ( 95 )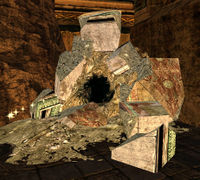 Location
Morfuin (Sindarin for Black-night or Black-gloom) can be found during an encounter in the Skirmish Rescue in Nûrz Ghâshu in the Rift. The following encounter text will pop up if it is there:
Encounter: A hole in the rubble ahead appears to be oozing. Right-click it:
Encounter Update: Morfuin bursts from the ground.
It is found in the corner west of where the last torech was. If you right-click it, it will come out of the hole. Note that it's level and power/health depends on the level and tier of the skirmish you are doing. This inspect is made in a level 95 tier 1 solo skirmish.
Abilities
Deed Involvement
Tactics
This creature deals much damage, but moves very slowly and lacks ranged attacks. If you have ranged skills it works great to attack from a distance and move a few meters now and then.
Stats
Morfuin
Morale / Power
Level
Player Grouping
Tier I
Tier II
Tier III
Type
65
Solo
18,342 / ?
Signature
65
Duo
37,093 / 2,939
45,335 / 2,939
61,821 / 2,939
Elite Master
65
Small Fellowship
49,819 / 2,939
67,935 / 2,939
Elite Master
65
Fellowship
65
Raid
Drops