Morflak
Jump to navigation
Jump to search
| | |
| --- | --- |
| | Morflak |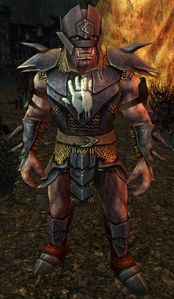 Description
Morflak is found at Morflak's Command in Ring of Isengard in Nan Curunír.[59.0N, 11.4E]
He is a commander of the Uruk-hai, who's trusted by the corrupt wizard Saruman.
Quest Involvement
Gallery
Spoiler Alert
The Player, being captive, slowly earns the respect of this fierce Uruk by doing a number of tasks for him. Later on, the player escapes the Ring of Isengard which of course makes Morflak furious by dishonoring his position as the prisoner's master. Later on, he attempts to redeem himself by killing the Prince of Rohan, Théodred. He succeeds with his task and is close to ending both Grimbold of Grimslade's and the Player's life but is slain by Elfhelm and his riders in the battle of the Ford of Isen.
Being an important villain, a spear through the belly does not stop Morflak from tormenting the Player. He reappears in Volume 3 Book 6 "Troubled Dreams", in a huge, fierce shape in the Player's dream. There, he attempts to end the Player but is once again ridden down by Elfhelm.