Mines of Moria - Original Video Game Soundtrack
Jump to navigation
Jump to search
Mines of Moria - Original Video Game Soundtrack
Fan-created album art
Chance Thomas, Stephen DiGregorio
Released
November 17, 2008
Length
1:01:30
Label
Turbine, Inc.
LotRO Soundtrack Chronology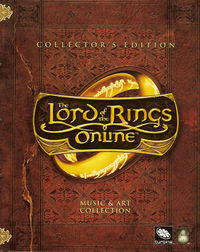 Mines of Moria - Original Video Game Soundtrack is the official soundtrack for the Mines of Moria expansion. It was created by Chance Thomas and Stephen DiGregorio and originally released on November 17, 2008 with the Mines of Moria: Collector's Edition.
Production and Release
For the Mines of Moria expansion, Chance Thomas was asked to create around 40 minutes of music, with Stephen DiGregorio creating the rest. Thomas used live instruments, specifically the Utah Film Orchestra and singers from the Mormon Tabernacle Choir, while Stephen DiGregorio's contributions used synthesized instruments. A first for Thomas, he did not conduct the recording sessions for his compositions, instead listening from the control room, focusing more on critical listening and giving direction to the recordings.
The vocals in Thomas' recordings consist of Dwarvish words, written by Thomas for these recordings. This can be heard specifically in "Drums in the Deep". Thomas has said he composed "The Golden Wood" entirely in one night, alone in his studio, "as if it poured from [his] very spirit." After recording it many of the musicians went into the control room on their break to hear how it sounded, something he says is incredibly rare as "breaks are sacred to musicians, and any kind of infringement is like insulting Sauron himself." Thomas wrote "A Journey in the Dark" as well as most of the music specifically for Moria locations only "at night, with the lights out in my studio, sometimes composing until 3 or 4 in the morning."
This soundtrack was released on November 17, 2008 exclusively as part of the Music and Art Collection in the Mines of Moria: Collector's Edition, released in the US, and the Mines of Moria: Special Edition, released by Codemasters in Europe.
Track Listing
All tracks composed by Chance Thomas or Stephen DiGregorio, as indicated.
"The Hollin Gate" (Chance Thomas) - 3:26
"A Journey in the Dark" (Chance Thomas) - 2:22
"Drums in the Deep" (Chance Thomas) - 3:40
"Khazad-dûm" (Chance Thomas) - 3:30
"In the Darkness Bind Them" (Stephen DiGregorio) - 3:59
"Mines of Mithril" (Stephen DiGregorio) - 3:56
"The Golden Wood" (Chance Thomas) - 4:02
"Archers of the Galadhrim" (Chance Thomas) - 3:44
"They Are Coming..." (Stephen DiGregorio) - 3:30
"Durin's Day" (Stephen DiGregorio) - 3:04
"The Falls of Nimrodel" (Chance Thomas) - 3:29
"Runes of Fire" (Stephen DiGregorio) - 3:29
"We Cannot Get Out" (Stephen DiGregorio) - 3:43
"The Black Pit" (Stephen DiGregorio) - 4:09
"Flame of Udûn" (Chance Thomas) - 4:59
"The Shadow Lies Upon His Tomb" (Stephen DiGregorio) - 4:24
"Hour of Doom" (Chance Thomas) - 2:13
Personnel
Chance Thomas
Stephen DiGregorio
Utah Film Orchestra
Singers from the Mormon Tabernacle Choir
Jenny Jordan - Voice
External Links