Minas Elendúr
Jump to navigation
Jump to search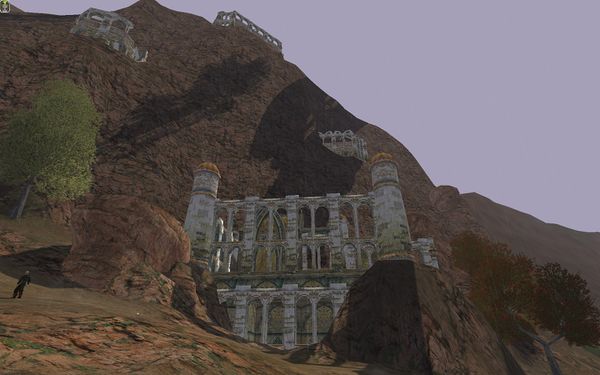 Minas Elendúr is a public dungeon within Redhorn Gate, in Eregion. [48.6S, 6.5W]
The entrance is found at most west Târ Stazg, on the hillside. The halls of Minas Elendúr can be freely accessed after accepting Volume III, Book 2, Chapter 6: Fúni Gem-cutter.
The "Room of Dread" inflicts +10 Dread. The dungeon also provides access to the halls of Delotham.
Quests
Starting:
Involving:
Deeds
These deeds can be advanced by exploring Minas Elendúr:
Creatures
These creatures are encountered at this location:
Lore
Ghostly figures appear in many of the rooms as you enter them, a recollection of the battle that took place therein.
Rooms inside dungeon
List of rooms with a note about any ghostly figures. The rooms with no notes seem to be without:

You found the statue in the courtyard of Minas Elendúr
You found the room of dread in Minas Elendúr (Antheron)
You found the room of doors in Minas Elendúr (one elf who is slain)
You found the northern room in Minas Elendúr
You found the northern chamber in Delotham
You found the dimly-lit, pillared room in Minas Elendúr
You found the south-east corner in Minas Elendúr
You found the sunken chamber in Delotham (three elves)
You found the south-east aisle in Minas Elendúr
You found the circular courtyard in Minas Elendúr
You found the buried room in Delotham (angry troll)
You found the south-west corner of Minas Elendúr
You found the central chamber in Delotham
You found the collapsed corner in Delotham (elf hiding from orc behind a pillar)
You found the illuminated bend in Delotham
You found the four-corridor junction in Delotham
You found the windowed chamber in Minas Elendúr (three elves looking out the window)
You found the isolated chamber in Minas Elendúr (elves and orcs fighting)
You found the rubble-filled room in Delotham (three elves in a corner)
You found the illuminated room in Delotham
You found the large balcony in Minas Elendúr
You found the enclosed porch in Minas Elendúr
You found the south-west corner of Delotham
Maps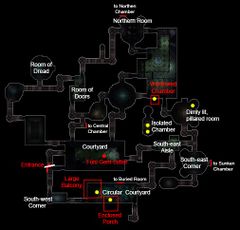 Yellow dot = treasure
Red square = room that can only be reached from Delotham
Red stripe = door that leads to a special room in Delotham