Mílgamel
Jump to navigation
Jump to search
| | |
| --- | --- |
| | Mílgamel |
Description
Mílgamel is a new apprentice to Galathir in Minas Tirirth.
Ioreth is concerned that she needs guidance away from Galathir and asks you to assist her in discovering information on her own, independent of Galathir's instructions.
She is first encountered in the House of Remedies on the 6th tier of Minas Tirith
Quest Involvement
Mílgamel (Festival Grounds)
| | |
| --- | --- |
| | Mílgamel |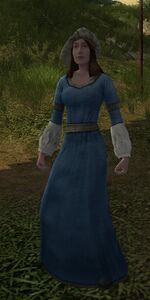 During the Spring Festival, Mílgamel is found in the Bree-land Festival Grounds.
She accompanies a pair of herbalists who have traveled north from Minas Tirith on a research expedition.
Quest Involvement