Item:Westfold Steed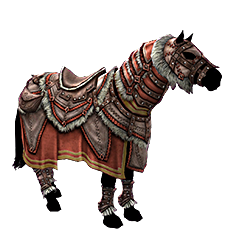 Westfold Steed
Consumed On Use

 

Barring Skill: Westfold Steed
Requires: Riding

 

"You can use this token to learn a skill to call this mount

Using this token will grant you the appropriate horse or pony for your race."

 
Item Information
 Location
This mount is sometimes found in the LOTRO Store for 1995  .


Skill(s) Granted
Using this item grants the skill  

Westfold Steed

.
 Mount Stats
Speed = 68%
Morale = 250
Trait(s) Granted
This item also grants the following appearance traits for War-steeds.
Gallery