Item:Moria Keg
Jump to navigation
Jump to search

Moria Keg
Decoration Category: Furniture

 

On Use:

Drinking this brandy may not be the safest thing you could do.

Duration: 10s
Applied on expiration:

You feel a bit woozy... more brandy will solve that!


Duration: 15s

 

Requires: Seeker of Deep Places

 

"This keg is filled to the brink with some foul-smelling stuff that probably came from the Watcher's own... you don't want to think about it. Oh well... it's time to dwarf up!

This keg can only be used if a player has access to Moria."

 

 
Festival Information
This item is available during Spring Festivals since 2010.
Effect Information
Drinking from the keg applies the effect

 Party Time.
Barter Information
Barterer: Spring Rewards Vendor NPCs
Gallery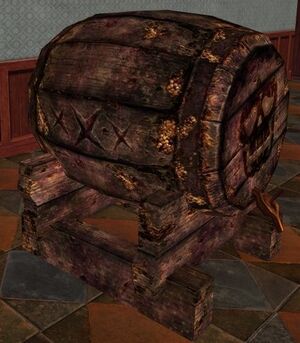 Drunken Destinations
Once the furniture is used, the player will be endowed with the buff Party Time. When the buff expires, the player will be teleported to one of several random locations in Moria:
Camp in The Palace of Náin, northwest from Dolven-view, at

[7.2S, 112.9W]

.
A precipice underneath the entrance to The Grand Stair in The Redhorn Lodes, at

[10.5S, 103.6W]

. Regretfully, there isn't any outcropping in jumping distance.
An otherwise unreachable abandoned tavern above the vault in the 21st hall.

[5.6S, 104.9W]

A small, unreachable camp on Gabil-munz, the central pillar in the Water-works, with a view overlooking all of the Southeastern Water-works. The player can safely jump down from this spot with a thirty second falling injury.

[16.8S, 113.9W]

A completely otherwise unreachable high edge in the Foundation of Stone.

[14.1S, 96.8W]

On the edge of the well in the Chamber of the Crossroads.

[5.1S, 112.1W]

On top of a statue in Nud-melek.

[9.4S, 101.1W]
Need more locations, this isn't the full list