Farmer Maggot
Jump to navigation
Jump to search
| | |
| --- | --- |
| | Farmer Maggot |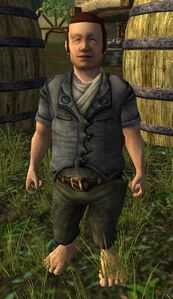 Description
Farmer Maggot is a well-respected Farmer, and the owner and operator of Bamfurlong in The Shire. [34.3S, 64.4W]
During the Farmers Faire he has brought his best crop to a large mushroom tent next to the Three Farthing Stone. There he is chatting with gentlemen such as Hamfast Gamgee and Tolman Cotton. There he is not acting as a Grocer.
Decades ago he met Frodo:
'One trouble after another!' said Frodo, looking nearly as much alarmed as if Pippin had declared the lane was the slot leading to a dragon's den. The others looked at him in surprise.
'What's wrong with old Maggot?' asked Pippin. 'He's a good friend to all the Brandy bucks. Of course he's a terror to trespassers, and keeps ferocious dogs - but after all, folk down here are near the border and have to be more on their guard.'
'I know,' said Frodo. 'But all the same,' he added with a shamefaced laugh, 'I am terrified of him and his dogs. I have avoided his farm for years and years. He caught me several times trespassing after mushrooms, when I was a youngster at Brandy Hall.' — The Fellowship of the Ring
However, Farmer Maggot was most helpful and bravely helped the Fellowship to escape the Nazgûl riders.
Quest Involvement
Quotes
"Would you care to purchase any produce? Bamfurlong is the birthplace of the most delicious foodstuffs in the Shire, if you ask for my opinion."
Sells
Item
Cost
 

Bag of Salt

1  12  
 

Bottle of Water

4  
 

Chicken Egg

24  
 

Coney

56  
 

Cut of Beef

1  12  
 

Drop of Honey

56  
 

Dry Rations

48  
 

Hard Rations

1  12  
 

Jar of Vegetable Oil

56  
 

Lamb Bone

1  12  
 

Lamb Kidney

1  12  
 

Lump of Butter

24  
 

Piece of Uncooked Bacon

56  
 

Pinch of Shire Seasonings

56  
 

Pork Shank

24  
 

Raw Pork Sausage

56  
 

Rich Rations

1  60  
 

Scoop of Lard

24  
 

Simple Rations

4  
 

Tasty Rations

2  20  
 

Uncooked Pork Chop

1  12  
External References