Damrod
Jump to navigation
Jump to search
Description
Damrod is a Ranger of Ithilien and a lieutenant of Faramir, the Captain of Gondor. He can be encountered within the culverts of the ruined city of Osgiliath.
Damrod (Osgiliath)
| | |
| --- | --- |
| | Damrod |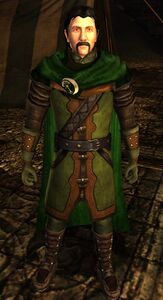 Initially met in the Culverts.
Quest Involvement
Quotes
"Your efforts have bought the defenders of Minas Tirith some time, and those extra hours, however brief, might prove the difference. Evil cannot fight forever. Faramir will be found, and our battles will be won!"
Damrod (Morgul Vale)
| | |
| --- | --- |
| | Damrod |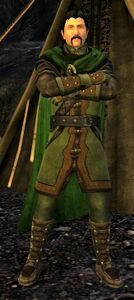 After the fall of Mordor he joins Prince Faramir's band in the cleansing of the Morgul Vale. He can be found in Echad Uial as well as within the towers of Barad Angarth and Barad Orhant in Minas Morgul once the campaign in the city has begun.
Quest Involvement
Echad Uial
Barad Angarth
Barad Orhant