Céolflad (Wildermore)
Jump to navigation
Jump to search
| | |
| --- | --- |
| | Céolflad |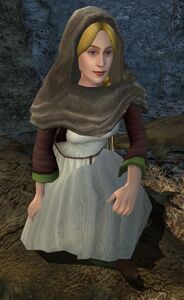 This page is about Céolflad in Wildermore. For the NPC in Edoras, see Céolflad. 
Description
Céolflad is a refugee hiding in Steaping Cave north of Byre Tor in the High Knolls of Wildermore.[31.4S, 64.8W]
Céolflad is also the Healer for the refugees.
Quest Involvement
Quotes
"We will patch you up, Thane. Try not to speak..."
Sells
Simple Potions
Item
Cost
 

Simple Conhuith Draught

1  
 

Simple Healing Draught

1  
 

Simple Lhinestad Draught

1  
 

Simple Milkthistle Draught

1  
 

Simple Conhuith Salve

1  
 

Simple Healing Salve

1  
 

Simple Lhinestad Salve

1  
 

Simple Milkthistle Salve

1  
Greater Potions
Item
Cost
 

Greater Conhuith Draught

3  
 

Greater Healing Draught

3  
 

Greater Lhinestad Draught

3  
 

Greater Milkthistle Draught

3  
 

Greater Conhuith Salve

3  
 

Greater Healing Salve

3  
 

Greater Lhinestad Salve

3  
 

Greater Milkthistle Salve

3  
Refined Potions
Item
Cost
 

Refined Conhuith Draught

5  
 

Refined Healing Draught

5  
 

Refined Lhinestad Draught

5  
 

Refined Milkthistle Draught

5  
 

Refined Conhuith Salve

5  
 

Refined Healing Salve

5  
 

Refined Lhinestad Salve

5  
 

Refined Milkthistle Salve

5  
Distilled Potions
Item
Cost
 

Distilled Conhuith Draught

10  
 

Distilled Healing Draught

10  
 

Distilled Lhinestad Draught

10  
 

Distilled Milkthistle Draught

10  
 

Distilled Conhuith Salve

10  
 

Distilled Healing Salve

10  
 

Distilled Lhinestad Salve

10  
 

Distilled Milkthistle Salve

10  
Infused Potions
Item
Cost
 

Infused Conhuith Draught

12  
 

Infused Healing Draught

12  
 

Infused Lhinestad Draught

12  
 

Infused Milkthistle Draught

12  
 

Infused Conhuith Salve

12  
 

Infused Healing Salve

12  
 

Infused Lhinestad Salve

12  
 

Infused Milkthistle Salve

12  
Steeped Potions
Item
Cost
 

Steeped Conhuith Draught

14  
 

Steeped Healing Draught

14  
 

Steeped Lhinestad Draught

14  
 

Steeped Milkthistle Draught

14  
 

Steeped Conhuith Salve

12  
 

Steeped Healing Salve

12  
 

Steeped Lhinestad Salve

12  
 

Steeped Milkthistle Salve

12  
Dunland Potions
Item
Cost
 

Dunland Conhuith Draught

14  
 

Dunland Healing Draught

14  
 

Dunland Lhinestad Draught

14  
 

Dunland Milkthistle Draught

14  
 

Dunland Conhuith Salve

14  
 

Dunland Healing Salve

14  
 

Dunland Lhinestad Salve

14  
 

Dunland Milkthistle Salve

14  
Eastemnet Potions
Item
Cost
 

Eastemnet Conhuith Draught

15  
 

Eastemnet Healing Draught

15  
 

Eastemnet Lhinestad Draught

15  
 

Eastemnet Milkthistle Draught

15  
 

Eastemnet Conhuith Salve

15  
 

Eastemnet Healing Salve

15  
 

Eastemnet Lhinestad Salve

15  
 

Eastemnet Milkthistle Salve

15  
Westemnet Potions
Item
Cost
 

Westemnet Conhuith Draught

16  
 

Westemnet Healing Draught

16  
 

Westemnet Lhinestad Draught

16  
 

Westemnet Milkthistle Draught

16  
 

Westemnet Conhuith Salve

16  
 

Westemnet Healing Salve

16  
 

Westemnet Lhinestad Salve

16  
 

Westemnet Milkthistle Salve

16  
Anfalas Potions
Item
Cost
 

Anfalas Conhuith Draught

17  
 

Anfalas Healing Draught

17  
 

Anfalas Lhinestad Draught

17  
 

Anfalas Milkthistle Draught

17  
 

Anfalas Conhuith Salve

17  
 

Anfalas Healing Salve

17  
 

Anfalas Lhinestad Salve

17  
 

Anfalas Milkthistle Salve

17  
Doomfold Potions
Item
Cost
 

Doomfold Conhuith Draught

18  
 

Doomfold Healing Draught

18  
 

Doomfold Lhinestad Draught

18  
 

Doomfold Milkthistle Draught

18  
Ironfold Potions
Item
Cost
 

Ironfold Conhuith Draught

19  
 

Ironfold Healing Draught

19  
 

Ironfold Lhinestad Draught

19  
 

Ironfold Milkthistle Draught

19  
 

Ironfold Conhuith Salve

19  
 

Ironfold Healing Salve

19  
 

Ironfold Lhinestad Salve

19  
 

Ironfold Milkthistle Salve

19  
Minas Ithil Potions
Item
Cost
 

Minas Ithil Conhuith Draught

20  
 

Minas Ithil Healing Draught

20  
 

Minas Ithil Lhinestad Draught

20  
 

Minas Ithil Milkthistle Draught

20  
Gundabad Potions
Item
Cost
 

Gundabad Conhuith Draught

21  
 

Gundabad Healing Draught

21  
 

Gundabad Lhinestad Draught

21  
 

Gundabad Milkthistle Draught

21  
 

Gundabad Conhuith Salve

21  
 

Gundabad Healing Salve

21  
 

Gundabad Lhinestad Salve

21  
 

Gundabad Milkthistle Salve

21