Antheron
Jump to navigation
Jump to search
| | |
| --- | --- |
| | Antheron |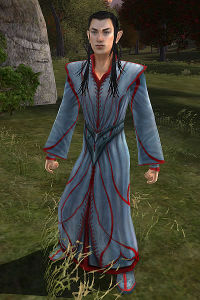 Description
Antheron (Annatar in the original Tolkien legendarium) once taught the Elves how to craft the Rings of Power, which is apt as his name is Sindarin for "Master of Gifts". He appears in an instance where he has promised to teach Narmeleth about his knowledge of ancient ring-lore, if she comes with him.
Quest Involvement
Other appearances
Gallery
Spoiler Alert
Antheron's agenda is to beguile Narmeleth. He is, in fact, the Dark Lord Sauron in disguise.

In the original Lord of the Rings legendarium, this character is known as Annatar, "Lord of Gifts." According to the Tolkien Gateway, Antheron, "Gift-lord" was used in Lotro to avoid copyright infringement (Turbine does not hold rights to content from The Silmarillion).