Update 37.2.1 - Wednesday October 11, 2023
Jump to navigation
Jump to search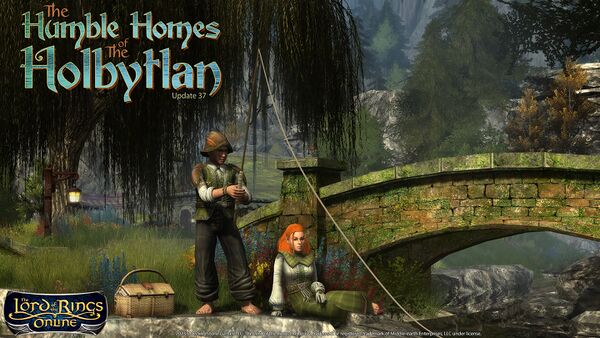 Update 37.2.1 Release Notes
Here are the release notes for Update 37.2.1, released on Wednesday, October 11th, 2023.
News and Notes
The French version of the 'Mariner' class movie will now play properly.
Mariner travel skills can no longer be used prior to completing the Introduction.
Lightning Flèche now benefits from AoE damage bonuses, not Bleed damage bonuses.
Shanty heals correctly apply only once per use (not multiplying for each nearby ally).
Sail to Tharbad no longer suggests it takes you to Sarn Ford.
Low-level haversacks correctly equip into the class item slot and no longer equip into the ranged slot.
The Moria Medium Armor trader barter list for Burglar has been renamed to 'Burglar and Mariner Armour Sets'
The Medium Armour Trader at Skirmish Camps will now properly upgrade Erebor Mariner's Armour to Greater Erebor Mariner's Armour.
The recipe for Mariner's Abyssal helms has been added to the Gorgoroth Instances Barter Vendor.
Mariners now correctly receive class-appropriate gear from Hiddenhoard chests.
Mariner Hiddenhoard cloaks are now listed on the Medium Cloak exchange barter list.
En Garde's description now states that it requires Steady Balance, rather than trying to display the minimum and maximum required pips.
Belly of Brine no longer suggests that it has a bonus effect when Rare Herbs is not actively traited.
Beneficial, targeted ranged skills (like Toss a Bottle and The South Wind) now correctly benefit from the Healing Range Extension tracery, rather than the damaging Range Extension tracery.
Draining Strike will now improve or refresh the Enervating Counter debuff as expected.
An issue with High Elf Mariner facial animation during combat has been corrected.
Mariner raid gear has been added to barter vendors in the following camps:

Rift camp (Rift)
Twenty-first Hall (Moria)
Caras Galadhon (Dar Narbugud)
Emyn Lum (Dol Guldur)
Enedwaith (Ost Dunhoth)
Ox-clan Merchant Camp (Orthanc)
Galtrev (Draigoch)
Classes
The Beorning skill Hearten when traited in The Hide now advances class deeds properly.
Miscellaneous
The Swashbuckle emote will now correctly play on Elf characters.
The following Racial Trait granting deeds will now complete properly, even if you race change after completing the relevant deed requirements:

Friend of the Forsaken (Virtuous River Hobbit)
Back And There Again (Return to Lyndelby)
Guest of Thorin's Hall (Virtuous Stout-axe)
Friend to the Galadhrim (Virtuous High Elf)
Known Issues
Most Mariner set gear now has appropriate set bonuses. The few remaining will be addressed in a future update.
Source