Update 36.1 - Wednesday July 12, 2023
Jump to navigation
Jump to search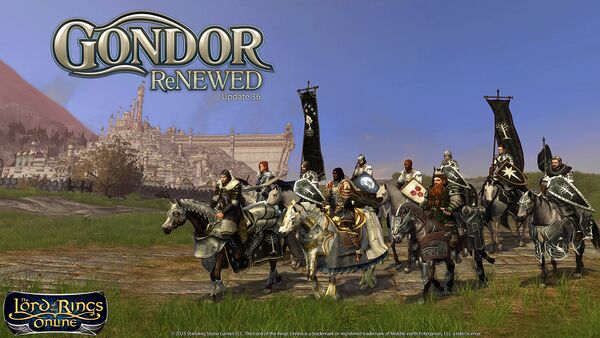 Update 36.1 Release Notes
Here are the release notes for Update 36.1, released on Wednesday, July 12th, 2023.
News and Notes
Game performance
Treasure Bugan quest bestowal should no longer cause a large client hitch.
Items
The Brawler Ost Dunhoth Armour Set is now correctly named, and now equips to the correct slots.
Many early quest weapons are now correctly categorized and searchable in the wardrobe, particularly hammers, axes, daggers and clubs
Lootboxes
Adventurer's and Traveller's Steel-bound Lootboxes have been updated to feature new items, with "Horse Archer's" cosmetic items, including Avatar cosmetics, a Steed, and matching War-steed appearances, a Jerboa cosmetic pet, plus new and classic housing and other items including a Potted Palm, Jerboa House, Fox and Fiddle Inn Signpost, a Vase of White Clover, Steed of the Eldar and a Vase of Cockscomb. Some of these items are also available with Filbert Fig for Figments of Splendour.
Some older avatar cosmetics and steeds have been moved off of Filbert Fig and onto the Curator.
Landscapes
A Brawler trainer has been added, and a Beorning trainer has been removed for lore reasons, from the Orthanc Ox-Clan Merchant Camp.
Miscellaneous floating objects have been resolved.
Miscellaneous buried resources and creatures have been resolved.
Miscellaneous terrain seams have been resolved.
Miscellaneous Z-fighting has been resolved.
Both entrances to the Herne Auction Hall are now labelled correctly.
Miscellaneous physics issues have been resolved.
Miscellaneous stuck spots have been resolved.
Miscellaneous terrain texture issues have been resolved.
Localization
German: Text displays correctly for the Embers of Enchantment received from the Adventurer's Quartermaster in the German client.
LOTRO Store and Market
Once per account deliveries, such as expansion pack Expedition Supplies and Supporter Pack Starter items, now require a character to have the Novice trait before delivery to help prevent accidental loss of these items due to character deletion.
Missions
Turtles in the mission "Terrible Turtle Trouble" will now apply the Delving effects "Sauron's Wrath" and "Sauron's Blessing" on each other.
PvMP
A couple Orc Defiler appearances were accidentally changed in a recent update, and have been corrected:
The Boar-tribe Chieftan appearance has been returned to its original state.
The U34 Ultimate Edition defiler appearance has also been returned to its intended Boar-tribe state. The name of its trait has also been corrected, as it changes your appearance into that of a Boar-tribe Orc, not a Mordor Orc.
UI
The Renewal of Gondor Quartermaster now uses the correct map icon.
Source