Item
:
Tome of Tracking
Jump to navigation
Jump to search

Tome of Tracking
Item Level: 1
Consumed On Use
Cooldown: 30s

 

Not useable in Monster Play

 

"This tome can be used to track the following within a large area: Beasts, Insects, Dragon-kind, Orc-kind, Giants, Unseen, Dead, Ancient Evil, Dwarves, and Men. Stealthy creatures can also be tracked by using this item."
Item Information
This item grants tracking abilities similar to the following Hunter Skills:

This tome brings up a tracking window that shows nearby enemies allowing you to select one of them to display on the minimap as a purple circle.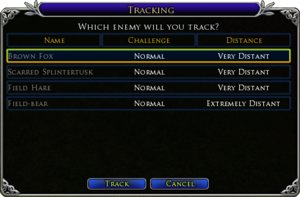 Quest Information
This tome is a quest reward from the Quest: An Old Trove.
Drop Information
Has been found to drop off creatures in the Bree-lands:
See Also
For the store version see

 Tome of Tracking