User talk:Ravanel
Jump to navigation
Jump to search
Welcome to LotRO-Wiki!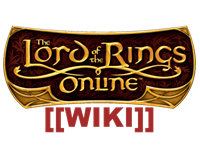 Hello, Ravanel, and welcome to LotRO-Wiki, the Lord of the Rings Online Wiki!
Thank you for your contributions, and we heartily encourage you to continue contributing!
Some useful pointers:
We hope you enjoy editing here!
Take a moment to create a User page for yourself (click on "User Page" at the top left of this page).
Just a couple of lines to tell us about yourself and your interests. It's a good way to practice editing!

Please remember to sign your name on talk pages using four tildes (~~~~) as this will automatically produce your name and the date.

We look forward to having you here. Sounds like you'll make a great addition to the team. Don't worry too much about messing things up. We have the ability to revert your changes. Jump in and see where it leads you. There's always the Help section. I've been attempting to freshen that section up and make it more complete and beginner friendly. If you have any questions don't be afraid to ask. Check out the Community page and Contributors' Corner. --Rogue 16:56, 19 November 2009 (UTC)
Argh -- get sidelined by life and the world passes you by!!!
I see yesterday (Monday) was a busy day. :)
I will have to catch-up.
On the tool-tip problem. It turns out there are some massive issues to clean up in the Category: Disambiguation Pages -- lots of item pages with stacked tooltips!!!

Item:Dwarf Padded Jacket, for example,
see my comments over at: User_talk:Zephyrians#Armour_of_the_Wyrm_and_Armour_of_the_Abyss
O dear, that's a lot of items with double (or more) tooltips, Many of those would be fixed when following the convention presented on Boilerplate:Item for Scaling Items. But it's a lot of work. An issue with keeping it around like this is that people might copy those item pages for new ones and repeat the error in the future. --Ravanel (talk) 11:37, 7 February 2018 (UTC)