Tulk
Jump to navigation
Jump to search
Description
Tulk is a member of the dwarvish expedition to reclaim Moria and he is encountered several times.
Tulk (The Walls of Moria)
| | |
| --- | --- |
| | Tulk |
Tulk is first met at the Walls of Moria in Eregion, along the road just east of Echad Dúnann.

Quest Involvement
Quotes
"I cannot stand crebain. Filthy creatures, and too ready to spy on us."
"The Sirannon was once a noisy stream, but no longer."
"Thank you for bringing my report to Bósi."
"What awaits us within Moria, I wonder?"
Tulk (Durin's Threshold)
| | |
| --- | --- |
| | Tulk |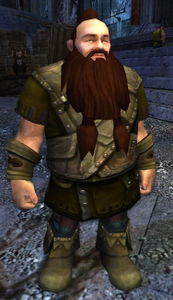 Tulk is waiting to greet adventurers at Durin's Threshold in the Great Delving after the dwarfs have successfully entered Moria through the Hollin Gate.

Quest Involvement