Quest:Sunken Urns
Jump to navigation
Jump to search
Quest Chain
Unnamed quest chain, and its optional sub-quests.
[38] Orchalwë's Mission
[40] Reclamation
Attention: DO NOT advance past objective 2 of the quest "Orchalwë's Mission" until you have finished the optional sub-quests you want to complete, quote from objective 2:
"Advancing this quest will no longer allow you to summon Orchalwë and will cancel any quests bestowed by him that are currently underway."
"Orchalwë's Mission" yields a Smoke Signal that is used not only for the main quest but also for these optional sub-quests.
Walkthrough & Notes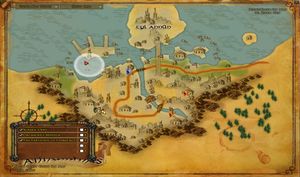 Urns can be found at the bottom of the water as you swim around the area.
Quest Text
Bestowal Dialogue
'Did you see that glint beneath the waves? Could anything really still be down there?
'It looks like a vase. I wonder how it managed to survive all this long? I suppose the ruins must have protected it from the waves and currents.
'Look there! Another one! Go and see if you can recover some of them. If they are sealed, the contents could be a great boon.'
Background
Several ancient urns are still under the water, protected from the waves by the ruins of the flooded buildings.
Objective 1
Collect sunken urns (0/6)
Orchalwë saw some urns beneath the waves.
Objective 2
Bring the urns to Orchalwë
Orchalwë will want to look at the vases.
Orchalwë: 'Nothing here but empty, soaked pottery. These are the reason we must retake the city...we lose enough of our post to the waters of the lake that we cannot afford to let Angmar take any as well.'