Item
:
Ingredient Crate
Jump to navigation
Jump to search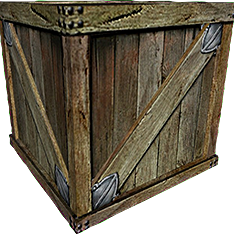 Ingredient Crate
"A crate that fills with Universal Ingredient Packs once per day from an unknown benefactor."
Item Information
The Ingredient Crate is one of the personal Crafting Stations introduced in Update 17.1. It is an external decoration item which can be placed in a Yard or Furniture space of a character's Personal House or a Kinship House and provides a daily allowance of Universal Ingredient Packs.
Vendor Information
The crate is available for purchase via the in-game LOTRO Store. Regular price is 995  .
Notes
The tooltip notes that it has a cooldown of 22 hours but this is per character so multiple characters can use it.
This item has two different images. as displayed in your inventory. as displayed in the Housing Maintenance window.
This facility may be used by anyone depending upon the permissions settings you have established for your house (Maintenance / Permissions / Use Decorations)
The crate can be opened once per day to find 3 Universal Ingredient Packs, which can be used to craft most items. (The crafted items are Bind to Account, i.e. cannot be traded to other players, and are only worth 1  , consequently they are primarily useful for crafting for your own characters or levelling up a crafter.)
Each level 15+ character on an account can use this each day, i.e. an account with ten level 15+ characters can loot 30 packs per day.
It is possible to use this crate and the  

Premium Ingredient Crate

with an active VIP subscription, which gives six packs per day; giving a potential nine packs per day, per VIP account character.
Gallery