Item:Gondorian Supplier Horn
Jump to navigation
Jump to search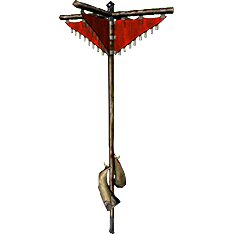 Gondorian Supplier Horn
The Gondorian Supplier Horn can be used to summon a Gondorian Supplier to your home.
Item Information
A Gondorian Supplier Horn (Supplier) may be purchased in the in-game Lotro Store for installation at your Personal House or Kin House. This facility may be used by anyone depending upon the permissions settings (Maintenance > Permissions > Use Decorations) you have established for your house and the standard Supplier will sell you certain crafting materials as well as buying items and repairing them.
If you have a house in the Homestead (any instance as long as it is the same race location) then you will also receive the appropriate vendor discount from the passive skill; such as Shire Home (-20%) or Shire Kinship Hall (-15%, whichever is the greater (not both) from this summoned NPC also.
Notes
This item has two different images. as displayed in your inventory. as displayed in the Housing Maintenance window.
The spawned NPC is a random female Gondorian Supplier who will utter an initial default comment on spawning, such as "Dark skies, dark tidings" or "I haven't slept in days".
Gallery