Hungry Hobbit
From Lotro-Wiki.com
Description
Hungry Hobbits are found throughout The Shire, and are quite fond of pie.
Quest Involvement
Complete the following quests in no particular order:
Finish:
Note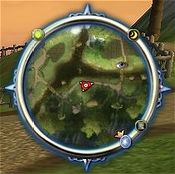 Hungry Hobbits are Quest-failer NPCs. During the pie delivery quests, if a player carrying a pie gets too close to a Hungry Hobbit NPC, the quest will fail.
While a player is doing of the pie delivery quests, the Hungry Hobbits appear as an eye icon on the mini-map radar, allowing the player to see their location and attempt to avoid them.