Housing Furnisher (Belfalas)
Jump to navigation
Jump to search
| | |
| --- | --- |
| | Housing Furnisher (Belfalas) |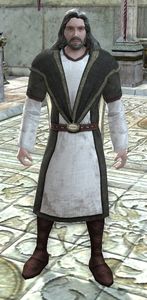 Description
There are three Housing Furnishers for Cape of Belfalas:

Note: Dol Amroth (Faction) (Friend) Vendor Discount (5%) applies.
Also, the characters on the account will automatically receive a Passive Skill that grants a 10% discount when purchasing and repairing with the vendors inside the neighbourhood in which house lies. This does not stack with the Kinship discount, which is 15%. If the character's Kinship house and personal house are in the same neighbourhood, only the Kinship discount will apply.
House Furnishings Sold
Item
Cost
 

'Ancestral Bonds' Theme

28  
 

'Autumn Ale' Theme

28  
 

'Belfalas' Theme

56  
 

'East of the Sea' Theme

28  
 

'Ered Luin' Theme

28  
 

'Gondorian Wall

14  
 

'Harvest Time' Painting

11  4  
 

'Heraldry' Painting

11  4  
 

'Hills of the Shire' Theme

14  
 

'Mithlond' Theme

28  
 

'Playful Children' Painting

11  4  
 

'Prancing Pony' Theme

28  
 

'Rohirrim Paneled Wall

14  
 

'Silent Hope' Theme

14  
 

Academic's Bentwood Bookshelf

14  
 

Academic's Table

14  
 

Academic's Table

11  4  
 

Autumn Elm Tree

14  
 

Barstool

11  4  
 

Basket Chandelier

12  
 

Bench

14  
 

Birch Tree

11  4  
 

Black Floor Paint

14  
 

Black Wall Paint

14  
 Breakfast Table Decoration Recipe
4  
 

Brewer's Waggon

11  4  
 

Brown Woven Doormat

11  4  
 

Cedar Tree

11  4  
 

Dark Green Floor Paint

14  
 

Dark Green Wall Paint

14  
 

Detailed Plaster Wall

14  
 

Dresser

14  
 

Dwarf-make Bench

14  
 

Dwarf-make Table

14  
 

Elm Tree

14  
 Elven Starry Chandelier Decoration Recipe
10  
 

Empty Brazier

11  4  
 

Farmer's Waggon

11  4  
 

Floral Tile Floor

14  
 

Floral Wallpaper

14  
 

Four Birch Trees

14  
 

Four Elm Trees

14  
 

Furnace

14  
 

Gold Floor Paint

14  
 

Gold Wall Paint

14  
 

Gondorian Marble Floor

14  
 

Gondorian Stone Floor

14  
 

Grey Diamond Stone Floor

14  
 

Hardwood Floor

14  
 

Hay Stook

11  4  
 

Haystack

11  4  
 

Indigo Floor Paint

14  
 

Indigo Wall Paint

14  
 

Interlocking Wood Floor

14  
 

Intricate Tile Floor

14  
 

Intricate Wood Floor

14  
 

Iron Brazier

11  4  
 

Iron Chandelier

12  
 

Iron Sconce

11  4  
 Large 'Dragon-fly' Rug Decoration Recipe
15  
 

Large Brown Rug

14  
 

Large Empty Wheelbarrow

11  4  
 

Large Red Leaf Rug

14  
 

Large Red Rug

14  
 

Large Round Chandelier

12  
 Large White 'Leaf Border' Rug Decoration Recipe
5  
 

Leaf Plaster Wall

14  
 

Lined Stone Wall

14  
 Log-holder Decoration Recipe
5  
 

Long Academic's Table

11  20  
 Long Dwarf-make Table Decoration Recipe
2  52  
 

Long Table

14  
 

Maple Tree

14  
 

Maple Tree-stump

11  4  
 

Marbled Stone Wall

14  
 

Master's Brazier

11  4  
 

Mossy Well

11  4  
 

Multi-coloured Stone Floor

14  
 

Navy Floor Paint

14  
 

Navy Wall Paint

14  
 

Olive Floor Paint

14  
 

Olive Wall Paint

14  
 

Picnic Bench

11  4  
 

Picnic Table

11  4  
 

Pink Rhododendron

11  4  
 

Pointed Bed

14  
 

Red Chair

11  4  
 

Red Chest

14  
 

Red Dresser

14  
 

Red Long Chair

14  
 

Red Round Table

11  4  
 Red Scholar's Bookshelf Decoration Recipe
10  
 

Red Stool

12  
 

Red Table

14  
 

Reed Vase

12  
 

Round Table

14  
 

Rounded Bed

14  
 

Rust Floor Paint

14  
 

Rust Wall Paint

14  
 Scholar's Bentwood Bookshelf Decoration Recipe
10  
 Scholar's Pointed Bookshelf Decoration Recipe
10  
 Scholar's Small Bentwood Bookshelf Decoration Recipe
5  
 

Shire Oak Tree

14  
 

Short Academic's Table

14  
 

Short Table

14  
 

Sienna Floor Paint

14  
 

Sienna Wall Paint

14  
 

Silver Candelabra

12  
 Small 'High Seas' Rug Decoration Recipe
20  
 Small 'Ring and Leaf' Rug Decoration Recipe
10  
 Small 'Tree Shadow' Rug Decoration Recipe
2  52  
 

Small Bed

14  
 

Small Brown Rug

11  4  
 

Small Cupboard

14  
 

Small Cut Stone Floor

14  
 

Small Empty Wheelbarrow

11  4  
 

Small Red Leaf Rug

11  4  
 

Small Red Rug

11  4  
 

Small Stone Fireplace

14  
 

Small Table

14  
 

Small Woven Brown Rug

11  4  
 

Spruce Tree

14  
 

Square Tile Floor

14  
 

Steel Brazier

12  
 

Stone Fireplace

14  
 

Stone Lilypad Tub

14  
 

Stone Well

11  4  
 

Tall Birch Tree

11  4  
 

Tall Iron Candlestand

12  
 

Textured Plaster Wall

14  
 

Umber Floor Paint

14  
 

Umber Wall Paint

14  
 

Violet Floor Paint

14  
 

Violet Wall Paint

14  
 

Wheelbarrow & Sacks

11  4  
 

White Floor Paint

14  
 

White Wall Paint

14  
 

Wood-plank Stone Wall

14  
 

Wooden Armchair

11  4  
 

Wooden Cart

14  
 

Wooden Chair

11  4  
 

Woodpanel Plaster Wall

14  
 

Yellow Rhododendron

11  4