Glothrok the Vile
Jump to navigation
Jump to search
This page is about the mounted Glothrok. For the same mob dismounted from his warg, see Glothrok the Vile (dismounted). 
Advanced Stats
Alignment: ( Evil )
Combat Effectiveness:
Finesse:

Unknown

F.M. Immune:

False

Stun/Mez Imm.:

True

Root Immune:

True

Resistances:
Cry:

Average

Song:

Average

Tactical:

Average

Physical:

Average
Mitigation:
Common:

Average

AncientDwarf:

Average

Fire:

Feeble

Beleriand:

Average

Light:

Feeble

Westernesse:

Average

Shadow:

Average

Frost:

Average

Lightning:

Average
Level of Lore-master reporting: ( )  
Location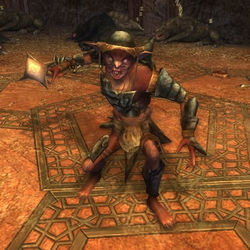 Glothrok the Vile can be found within the Highpeak Kennels in the Grand Stair instance in Moria. [71.2N, 137.8W]
Abilities
Quest Involvement
Tactics
Glothrok the Vile is riding a warg. At about 34k Morale the two separate into Glothrok and Forzunk. Kill the warg first and continue with the boss. At several points warg adds will appear; kill these first and continue with the boss. He is vulnerable to Light and Fire Damage. Expect many poisons during the fight.
Drops
Quotes
"What have we here, Forzunk? Not Orcs..."
"Well then, Forzunk, let us get more meat for the young!"
"In through the chest - out through the back!"
Lore
The fell Warg-rider, paired with his mount, is a terrifying foe, doubled in strength with his fanged companion bearing him upon his endeavours.