Gabil-hul
Jump to navigation
Jump to search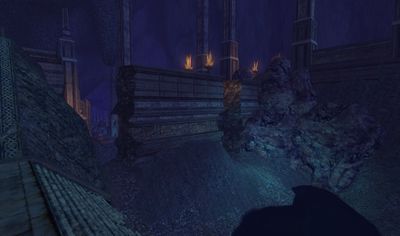 "I like this land. It reminds me of the twilit wilds, far away in the North, where my heart remains." - Calenglad
Location Stub
This article or section is marked for missing location information.
Please visit Create new location and help expand knowledge about this wondrous place.
Lore
Here at Gabil-hul once stood a dam constructed to capture the waters that flow through this area and so supply water to the dwarves inhabiting Zelem-melek. Now it lies in shattered ruins among stagnant puddles.
Location
Gabil-hul is located in Zelem-melek. [9.6S, 108.4W] From the Hall of Flowing Water, leave to the south and turn west. Follow that corridor until it opens into a large cavern with many broken walkways and stairways and some pools that are shown on the map.