Dol Amroth Quartermaster (Housing Decorations)
Jump to navigation
Jump to search
| | |
| --- | --- |
| | Dol Amroth Quartermaster (Housing Decorations) |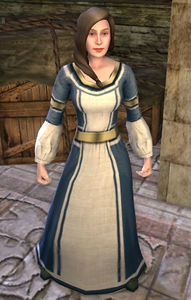 This page is about the Housing Decorations Quartermaster in Dol Amroth. For the Hobnanigans barter NPC, see Quartermaster (Housing Decorations). 
Description
The Dol Amroth Quartermaster (Housing Decoration) barters

 Silver Tokens of Dol Amroth and faction tokens for Gondor-themed housing decorations. See Dol Amroth City Watch for more information on the reputation.
Barters
Item to Receive
Items to Trade
 

Gondorian Shelf

5 Dol Amroth - Mason Tokens

10 Silver Tokens of Dol Amroth
 

Shelf of Stacked Gondorian Mugs

5 Dol Amroth - Armoury Tokens

10 Silver Tokens of Dol Amroth
 

Full Shelf of Gondorian Mugs

5 Dol Amroth - Warehouse Tokens

10 Silver Tokens of Dol Amroth
 

Short Shelf of Gondorian Mugs

5 Dol Amroth - Bank Tokens

10 Silver Tokens of Dol Amroth
 

Shelf of Gondorian Pans and Platters

5 Dol Amroth - Swan-knight Tokens

10 Silver Tokens of Dol Amroth
 

Cluttered Shelf of Gondorian Platters and Dishes

5 Dol Amroth - Library Tokens

10 Silver Tokens of Dol Amroth
 

Shelf of Gondorian Platters and Dishes

5 Dol Amroth - Great Hall Tokens

10 Silver Tokens of Dol Amroth
 

Shelf of Gondorian Pots

5 Dol Amroth - Docks Tokens

10 Silver Tokens of Dol Amroth
 

Short Shelf of Gondorian Pots

5 Dol Amroth - Mason Tokens

10 Silver Tokens of Dol Amroth
 

Small Gondorian Shelf

5 Dol Amroth - Armoury Tokens

10 Silver Tokens of Dol Amroth
 

Tapped Gondorian Keg

5 Dol Amroth - Warehouse Tokens

10 Silver Tokens of Dol Amroth
 

Tapped Gondorian Mini-keg

5 Dol Amroth - Bank Tokens

10 Silver Tokens of Dol Amroth
 

Rough Gondorian Bed

5 Dol Amroth - Mason Tokens

10 Silver Tokens of Dol Amroth
 

Rich Gondorian Sleigh Bed

5 Dol Amroth - Armory Tokens

10 Silver Tokens of Dol Amroth
 

Rough Gondorian Sleigh Bed

5 Dol Amroth - Warehouse Tokens

10 Silver Tokens of Dol Amroth
 

Gondorian Trunk Table

5 Dol Amroth - Bank Tokens

10 Silver Tokens of Dol Amroth
 

Small Gondor Table

5 Dol Amroth - Swan-knight Tokens

10 Silver Tokens of Dol Amroth
 

Medium Gondorian Table

5 Dol Amroth - Library Tokens

10 Silver Tokens of Dol Amroth
 

Large Gondorian Table

5 Dol Amroth - Great Hall Tokens

10 Silver Tokens of Dol Amroth
 

High-back Gondorian Couch

5 Dol Amroth - Docks Tokens

10 Silver Tokens of Dol Amroth
 

Gondorian Bookshelf Couch

5 Dol Amroth - Swan-knight Tokens

10 Silver Tokens of Dol Amroth
 

Low-back Gondorian Chair

5 Dol Amroth - Library Tokens

10 Silver Tokens of Dol Amroth
 

High-back Gondorian Chair

5 Dol Amroth - Great Hall Tokens

10 Silver Tokens of Dol Amroth
 

Gondorian Chair

5 Dol Amroth - Docks Tokens

10 Silver Tokens of Dol Amroth
 

Tall Gondorian Candelabra

10 Silver Tokens of Dol Amroth
 

Gondorian Candelabra

10 Silver Tokens of Dol Amroth
 

Gondorian Bookshelf

5 Dol Amroth - Mason Tokens

10 Silver Tokens of Dol Amroth
 

Right-sloped Gondorian Bookshelf

5 Dol Amroth - Armoury Tokens

10 Silver Tokens of Dol Amroth
 

Gondorian Bookcase

5 Dol Amroth - Warehouse Tokens

10 Silver Tokens of Dol Amroth
 

Left-sloped Gondorian Bookshelf

5 Dol Amroth - Bank Tokens

10 Silver Tokens of Dol Amroth
 

Large Gondorian Bookshelf

5 Dol Amroth - Swan-knight Tokens

10 Silver Tokens of Dol Amroth
 

Centre-arched Gondorian Bookshelf

5 Dol Amroth - Library Tokens

10 Silver Tokens of Dol Amroth
 

Gondorian Armoire

5 Dol Amroth - Great Hall Tokens

10 Silver Tokens of Dol Amroth
 

Gondorian Ladder

5 Dol Amroth - Docks Tokens

10 Silver Tokens of Dol Amroth