Coldfells Medium Armour Quartermaster
Jump to navigation
Jump to search
| | |
| --- | --- |
| | Coldfells Medium Armour Quartermaster |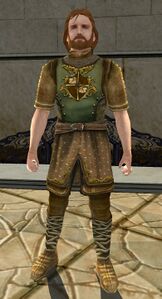 Description
The Coldfells Medium Armour Quartermaster is an armour trader at Glân Vraig in the Ettenmoors.[20.5S, 13.8W] He offers Medium PvMP Armour and Agility-based Jewellery that provides Audacity, some of which can be purchased with Gold and others that can be bartered for Commendations.
Quest Involvement
Quotes
"When you have proven your commitment to the Free Peoples' cause, you will be worthy for the goods I offer.'
Sells
These items do not have a Glory Rank requirement.
Medium Armor Tier 1
Item to receive
Items to trade
 

Fierce Hauberk of the Wary

737 20 
 

Fierce Gages of the Wary

733 40 
 

Fierce Boots of the Wary

733 40 
 

Fierce Coif of the Wary

734 40 
 

Fierce Leggings of the Wary

735 60 
 

Fierce Camail of the Wary

732 80 
 

Reinforced Hauberk of the Wary

737 20 
 

Reinforced Gages of the Wary

733 40 
 

Reinforced Boots of the Wary

733 40 
 

Reinforced Coif of the Wary

734 40 
 

Reinforced Leggings of the Wary

735 60 
 

Reinforced Camail of the Wary

732 80 
Tier 1 Jewellery
Item to receive
Items to trade
 

Fierce Bracer of the Spirited Wary

272 40 
 

Fierce Bracer of the Wary

272 40 
 

Fierce Medallion of the Wary

1 87 80 
 

Fierce Ring of the Militant Wary

272 40 
 

Fierce Ring of the Wary

272 40 
 

Fierce Stud of the Militant Wary

267 40 
 

Fierce Stud of the Wary

267 40 
 

Fierce Torc of the Wary

282 40 
 

Reinforced Absorbing Bracer of the Wary

272 40 
 

Reinforced Absorbing Ring of the Wary

272 40 
 

Reinforced Absorbing Stud of the Wary

267 40 
 

Reinforced Absorbing Torc of the Wary

282 40 
 

Reinforced Bracer of the Spirited Wary

272 40 
 

Reinforced Bracer of the Wary

272 40 
 

Reinforced Medallion of the Wary

1 87 80 
 

Reinforced Ring of the Spirited Wary

272 40 
 

Reinforced Ring of the Wary

272 40 
 

Reinforced Stud of the Spirited Wary

267 40 
 

Reinforced Stud of the Wary

267 40 
 

Reinforced Torc of the Wary

282 40 
Barters
Armour - Tier 2
Item(s) to Receive
Item(s) to Trade
 

Fierce Coif of the Vengeful

1,000 Commendations
 

Fierce Camail of the Vengeful

1,000 Commendations
 

Fierce Hauberk of the Vengeful

1,000 Commendations
 

Fierce Gages of the Vengeful

1,000 Commendations
 

Fierce Leggings of the Vengeful

1,000 Commendations
 

Fierce Boots of the Vengeful

1,000 Commendations
 

Reinforced Coif of the Vengeful

1,000 Commendations
 

Reinforced Camail of the Vengeful

1,000 Commendations
 

Reinforced Hauberk of the Vengeful

1,000 Commendations
 

Reinforced Gages of the Vengeful

1,000 Commendations
 

Reinforced Leggings of the Vengeful

1,000 Commendations
 

Reinforced Boots of the Vengeful

1,000 Commendations
Armour - Tier 3
Item(s) to Receive
Item(s) to Trade
 

Fierce Coif of the Ruthless

3,000 Commendations
 

Fierce Camail of the Ruthless

3,000 Commendations
 

Fierce Hauberk of the Ruthless

3,000 Commendations
 

Fierce Gages of the Ruthless

3,000 Commendations
 

Fierce Leggings of the Ruthless

3,000 Commendations
 

Fierce Boots of the Ruthless

3,000 Commendations
 

Reinforced Coif of the Ruthless

3,000 Commendations
 

Reinforced Camail of the Ruthless

3,000 Commendations
 

Reinforced Hauberk of the Ruthless

3,000 Commendations
 

Reinforced Gages of the Ruthless

3,000 Commendations
 

Reinforced Leggings of the Ruthless

3,000 Commendations
 

Reinforced Boots of the Ruthless

3,000 Commendations
Armour - Tier 3 Upgrade
Item(s) to Receive
Item(s) to Trade
 

Fierce Coif of the Ruthless

2,000 Commendations
 

Fierce Coif of the Vengeful

 

Fierce Camail of the Ruthless

2,000 Commendations
 

Fierce Camail of the Vengeful

 

Fierce Hauberk of the Ruthless

2,000 Commendations
 

Fierce Hauberk of the Vengeful

 

Fierce Gages of the Ruthless

2,000 Commendations
 

Fierce Gages of the Vengeful

 

Fierce Leggings of the Ruthless

2,000 Commendations
 

Fierce Leggings of the Vengeful

 

Fierce Boots of the Ruthless

2,000 Commendations
 

Fierce Boots of the Vengeful

 

Reinforced Coif of the Ruthless

2,000 Commendations
 

Reinforced Coif of the Vengeful

 

Reinforced Camail of the Ruthless

2,000 Commendations
 

Reinforced Camail of the Vengeful

 

Reinforced Hauberk of the Ruthless

2,000 Commendations
 

Reinforced Hauberk of the Vengeful

 

Reinforced Gages of the Ruthless

2,000 Commendations
 

Reinforced Gages of the Vengeful

 

Reinforced Leggings of the Ruthless

2,000 Commendations
 

Reinforced Leggings of the Vengeful

 

Reinforced Boots of the Ruthless

2,000 Commendations
 

Reinforced Boots of the Vengeful
Armour - Tier 4
Item(s) to Receive
Item(s) to Trade
 

Fierce Coif of the Relentless

5,000 Commendations
 

Fierce Camail of the Relentless

5,000 Commendations
 

Fierce Hauberk of the Relentless

5,000 Commendations
 

Fierce Gages of the Relentless

5,000 Commendations
 

Fierce Leggings of the Relentless

5,000 Commendations
 

Fierce Boots of the Relentless

5,000 Commendations
 

Reinforced Coif of the Relentless

5,000 Commendations
 

Reinforced Camail of the Relentless

5,000 Commendations
 

Reinforced Hauberk of the Relentless

5,000 Commendations
 

Reinforced Gages of the Relentless

5,000 Commendations
 

Reinforced Leggings of the Relentless

5,000 Commendations
 

Reinforced Boots of the Relentless

5,000 Commendations
Armour - Tier 4 Upgrade
Item(s) to Receive
Item(s) to Trade
 

Fierce Coif of the Relentless

2,000 Commendations
 

Fierce Coif of the Ruthless

 

Fierce Camail of the Relentless

2,000 Commendations
 

Fierce Camail of the Ruthless

 

Fierce Hauberk of the Relentless

2,000 Commendations
 

Fierce Hauberk of the Ruthless

 

Fierce Gages of the Relentless

2,000 Commendations
 

Fierce Gages of the Ruthless

 

Fierce Leggings of the Relentless

2,000 Commendations
 

Fierce Leggings of the Ruthless

 

Fierce Boots of the Relentless

2,000 Commendations
 

Fierce Boots of the Ruthless

 

Reinforced Coif of the Relentless

2,000 Commendations
 

Reinforced Coif of the Ruthless

 

Reinforced Camail of the Relentless

2,000 Commendations
 

Reinforced Camail of the Ruthless

 

Reinforced Hauberk of the Relentless

2,000 Commendations
 

Reinforced Hauberk of the Ruthless

 

Reinforced Gages of the Relentless

2,000 Commendations
 

Reinforced Gages of the Ruthless

 

Reinforced Leggings of the Relentless

2,000 Commendations
 

Reinforced Leggings of the Ruthless

 

Reinforced Boots of the Relentless

2,000 Commendations
 

Reinforced Boots of the Ruthless
Jewellery - Tier 2
Item(s) to Receive
Item(s) to Trade
 

Fierce Torc of the Vengeful

200 Commendations
 

Fierce Ring of the Vengeful

200 Commendations
 

Fierce Ring of the Militant Vengeful

200 Commendations
 

Fierce Bracer of the Vengeful

200 Commendations
 

Fierce Bracer of the Spirited Vengeful

200 Commendations
 

Fierce Stud of the Vengeful

200 Commendations
 

Fierce Stud of the Militant Vengeful

200 Commendations
 

Fierce Medallion of the Vengeful

200 Commendations
 

Reinforced Torc of the Vengeful

200 Commendations
 

Reinforced Ring of the Vengeful

200 Commendations
 

Reinforced Ring of the Spirited Vengeful

200 Commendations
 

Reinforced Bracer of the Vengeful

200 Commendations
 

Reinforced Bracer of the Spirited Vengeful

200 Commendations
 

Reinforced Stud of the Vengeful

200 Commendations
 

Reinforced Stud of the Spirited Vengeful

200 Commendations
 

Reinforced Medallion of the Vengeful

200 Commendations
Jewellery - Tier 3
Item(s) to Receive
Item(s) to Trade
 

Fierce Torc of the Ruthless

1,000 Commendations
 

Fierce Ring of the Ruthless

1,000 Commendations
 

Fierce Ring of the Spirited Ruthless

1,000 Commendations
 

Fierce Bracer of the Ruthless

1,000 Commendations
 

Fierce Bracer of the Spirited Ruthless

1,000 Commendations
 

Fierce Stud of the Ruthless

1,000 Commendations
 

Fierce Stud of the Spirited Ruthless

1,000 Commendations
 

Fierce Medallion of the Ruthless

1,000 Commendations
 

Reinforced Torc of the Ruthless

1,000 Commendations
 

Reinforced Ring of the Ruthless

1,000 Commendations
 

Reinforced Ring of the Spirited Ruthless

1,000 Commendations
 

Reinforced Bracer of the Ruthless

1,000 Commendations
 

Reinforced Bracer of the Spirited Ruthless

1,000 Commendations
 

Reinforced Stud of the Ruthless

1,000 Commendations
 

Reinforced Stud of the Spirited Ruthless

1,000 Commendations
 

Reinforced Medallion of the Ruthless

1,000 Commendations
Jewellery - Tier 3 Upgrade
Item(s) to Receive
Item(s) to Trade
 

Fierce Torc of the Ruthless

800 Commendations
 

Fierce Torc of the Vengeful

 

Fierce Ring of the Ruthless

800 Commendations
 

Fierce Ring of the Vengeful

 

Fierce Ring of the Spirited Ruthless

800 Commendations
 

Fierce Ring of the Militant Vengeful

 

Fierce Bracer of the Ruthless

800 Commendations
 

Fierce Bracer of the Vengeful

 

Fierce Bracer of the Spirited Ruthless

800 Commendations
 

Fierce Bracer of the Spirited Vengeful

 

Fierce Stud of the Ruthless

800 Commendations
 

Fierce Stud of the Vengeful

 

Fierce Stud of the Spirited Ruthless

800 Commendations
 

Fierce Stud of the Militant Vengeful

 

Fierce Medallion of the Ruthless

800 Commendations
 

Fierce Medallion of the Vengeful

 

Reinforced Torc of the Ruthless

800 Commendations
 

Reinforced Torc of the Vengeful

 

Reinforced Ring of the Ruthless

800 Commendations
 

Reinforced Ring of the Vengeful

 

Reinforced Ring of the Spirited Ruthless

800 Commendations
 

Reinforced Ring of the Spirited Vengeful

 

Reinforced Bracer of the Ruthless

800 Commendations
 

Reinforced Bracer of the Vengeful

 

Reinforced Bracer of the Spirited Ruthless

800 Commendations
 

Reinforced Bracer of the Spirited Vengeful

 

Reinforced Stud of the Ruthless

800 Commendations
 

Reinforced Stud of the Vengeful

 

Reinforced Stud of the Spirited Ruthless

800 Commendations
 

Reinforced Stud of the Spirited Vengeful

 

Reinforced Medallion of the Ruthless

800 Commendations
 

Reinforced Medallion of the Vengeful
Jewellery - Tier 4
Item(s) to Receive
Item(s) to Trade
 

Fierce Torc of the Relentless

2,000 Commendations
 

Fierce Ring of the Relentless

2,000 Commendations
 

Fierce Ring of the Spirited Relentless

2,000 Commendations
 

Fierce Bracer of the Relentless

2,000 Commendations
 

Fierce Bracer of the Spirited Relentless

2,000 Commendations
 

Fierce Stud of the Relentless

2,000 Commendations
 

Fierce Stud of the Spirited Relentless

2,000 Commendations
 

Fierce Medallion of the Relentless

2,000 Commendations
 

Reinforced Torc of the Relentless

2,000 Commendations
 

Reinforced Ring of the Relentless

2,000 Commendations
 

Reinforced Ring of the Spirited Relentless

2,000 Commendations
 

Reinforced Bracer of the Relentless

2,000 Commendations
 

Reinforced Bracer of the Spirited Relentless

2,000 Commendations
 

Reinforced Stud of the Relentless

2,000 Commendations
 

Reinforced Stud of the Spirited Relentless

2,000 Commendations
 

Reinforced Medallion of the Relentless

2,000 Commendations
Jewellery - Tier 4 Upgrade
Item(s) to Receive
Item(s) to Trade
 

Fierce Torc of the Relentless

1,000 Commendations
 

Fierce Torc of the Ruthless

 

Fierce Ring of the Relentless

1,000 Commendations
 

Fierce Ring of the Ruthless

 

Fierce Ring of the Spirited Relentless

1,000 Commendations
 

Fierce Ring of the Spirited Ruthless

 

Fierce Bracer of the Relentless

1,000 Commendations
 

Fierce Bracer of the Ruthless

 

Fierce Bracer of the Spirited Relentless

1,000 Commendations
 

Fierce Bracer of the Spirited Ruthless

 

Fierce Stud of the Relentless

1,000 Commendations
 

Fierce Stud of the Ruthless

 

Fierce Stud of the Spirited Relentless

1,000 Commendations
 

Fierce Stud of the Spirited Ruthless

 

Fierce Medallion of the Relentless

1,000 Commendations
 

Fierce Medallion of the Ruthless

 

Reinforced Torc of the Relentless

1,000 Commendations
 

Reinforced Torc of the Ruthless

 

Reinforced Ring of the Relentless

1,000 Commendations
 

Reinforced Ring of the Ruthless

 

Reinforced Ring of the Spirited Relentless

1,000 Commendations
 

Reinforced Ring of the Spirited Ruthless

 

Reinforced Bracer of the Relentless

1,000 Commendations
 

Reinforced Bracer of the Ruthless

 

Reinforced Bracer of the Spirited Relentless

1,000 Commendations
 

Reinforced Bracer of the Spirited Ruthless

 

Reinforced Stud of the Relentless

1,000 Commendations
 

Reinforced Stud of the Ruthless

 

Reinforced Stud of the Spirited Relentless

1,000 Commendations
 

Reinforced Stud of the Spirited Ruthless

 

Reinforced Medallion of the Relentless

1,000 Commendations
 

Reinforced Medallion of the Ruthless