Coldfells Heavy Armour Quartermaster
Jump to navigation
Jump to search
| | |
| --- | --- |
| | Coldfells Heavy Armour Quartermaster |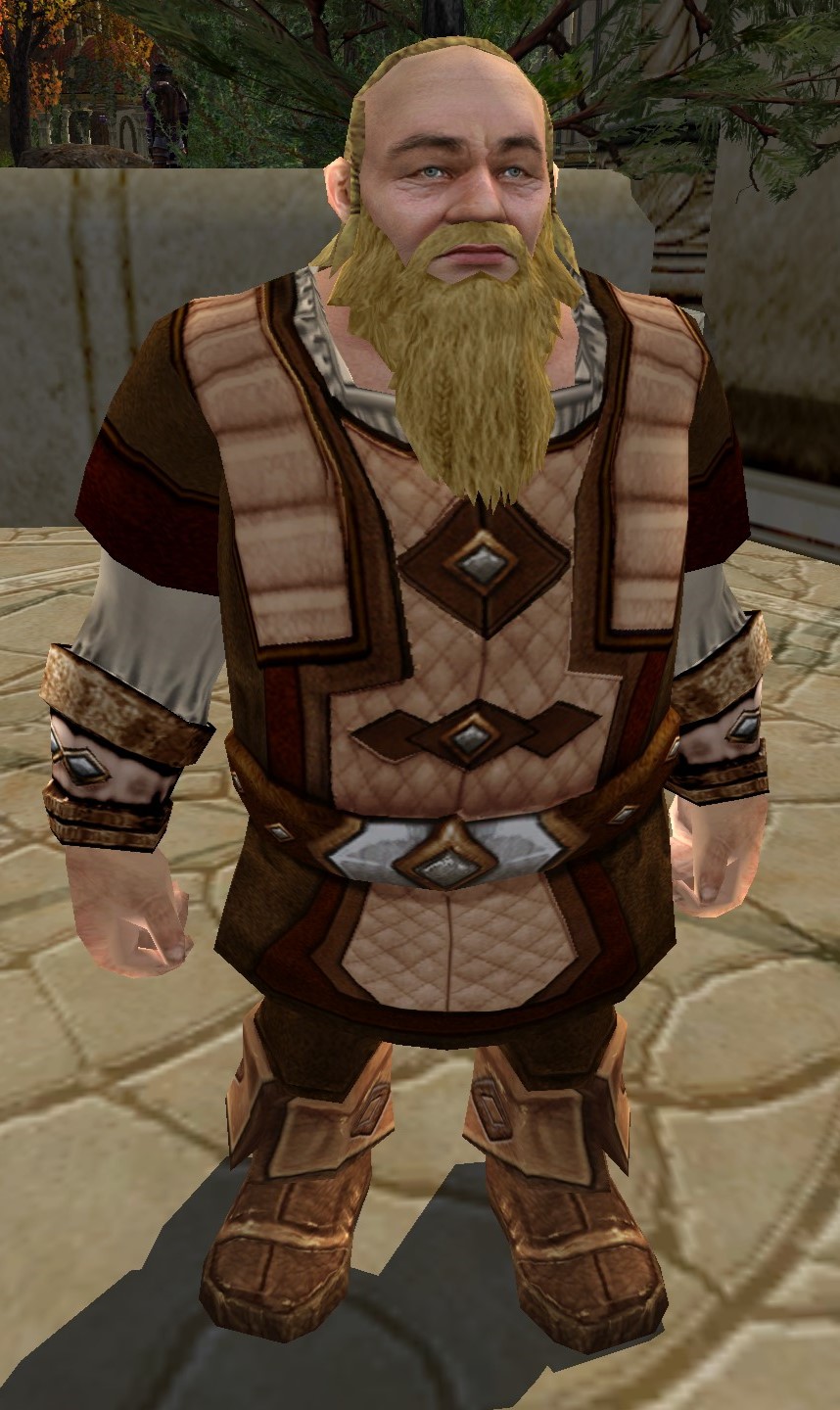 Description
The Coldfells Heavy Armour Quartermaster is an armour trader at Glân Vraig in the Ettenmoors. [20.5S, 13.8W]
Players who have not reached the level cap yet but want to stack up on Audacity can acquire heavy armour here. This armour scales up to 9 levels alongside the player.
He also offers PvMP Armour with Essence slots.
Barters
Item to Receive
Items to Trade
Level 20-29 Heavy Armour
 

Protector's Cloak

400 Commendations
 

Protector's Boots

400 Commendations
 

Protector's Leggins

600 Commendations
 

Protector's Gauntlets

750 Commendations
 

Protector's Breastplate

600 Commendations
 

Protector's Pauldrons

750 Commendations
 

Protector's Helmet

400 Commendations
Level 30-39 Heavy Armour
 

Protector's Cloak

800 Commendations
 

Protector's Boots

800 Commendations
 

Protector's Leggins

1,000 Commendations
 

Protector's Gauntlets

1,150 Commendations
 

Protector's Breastplate

1,000 Commendations
 

Protector's Pauldrons

1,150 Commendations
 

Protector's Helmet

800 Commendations
Level 40-49 Heavy Armour
 

Protector's Cloak

1,200 Commendations
 

Protector's Boots

1,200 Commendations
 

Protector's Leggins

1,400 Commendations
 

Protector's Gauntlets

1,550 Commendations
 

Protector's Breastplate

1,400 Commendations
 

Protector's Pauldrons

1,550 Commendations
 

Protector's Helmet

1,200 Commendations
Level 50-59 Heavy Armour
 

Protector's Cloak

1,600 Commendations
 

Protector's Boots

1,600 Commendations
 

Protector's Leggins

1,800 Commendations
 

Protector's Gauntlets

1,950 Commendations
 

Protector's Breastplate

1,800 Commendations
 

Protector's Pauldrons

1,950 Commendations
 

Protector's Helmet

1,600 Commendations
Level 60-69 Heavy Armour
 

Protector's Cloak

2,000 Commendations
 

Protector's Boots

2,000 Commendations
 

Protector's Leggings

2,200 Commendations
 

Protector's Gauntlets

2,350 Commendations
 

Protector's Breastplate

2,200 Commendations
 

Protector's Pauldrons

2,350 Commendations
 

Protector's Helmet

2,000 Commendations
Level 70-79 Heavy Armour
 

Protector's Cloak

2,400 Commendations
 

Protector's Boots

2,400 Commendations
 

Protector's Leggings

2,600 Commendations
 

Protector's Gauntlets

2,750 Commendations
 

Protector's Breastplate

2,600 Commendations
 

Protector's Pauldrons

2,750 Commendations
 

Protector's Helmet

2,400 Commendations
Heavy Essence Armour (Level 100)
 

Boots of the Armoury

4,000 Commendations
 

Leggings of the Armoury

6,000 Commendations
 

Gauntlets of the Armoury

4,000 Commendations
 

Jacket of the Armoury

7,500 Commendations
 

Shoulders of the Armoury

6,000 Commendations
 

Mask of the Armoury

7,500 Commendations
Heavy Essence Armour (Level 115 - T1)
 

Boots of the Stalwart

4,000 Commendations
 

Leggings of the Stalwart

6,000 Commendations
 

Gauntlets of the Stalwart

4,000 Commendations
 

Jacket of the Stalwart

7,500 Commendations
 

Shoulders of the Stalwart

6,000 Commendations
 

Helmet of the Stalwart

7,500 Commendations