Bowmaster
Jump to navigation
Jump to search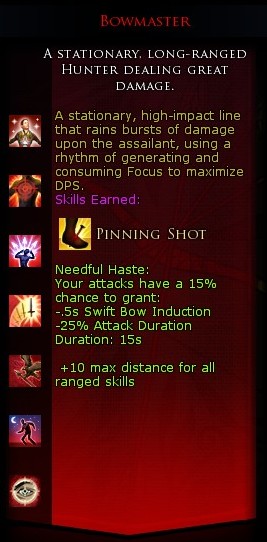 Bowmaster (Red line) is a Hunter Trait Tree. The other two trait trees of this class are Huntsman and Trapper of Foes.
Bowmaster
A stationary, long-ranged Hunter dealing great damage.
A stationary, high-impact line that rains bursts of damage upon the assailant, using a rhythm of generating and consuming Focus to maximize DPS.
Skills Earned:
Needful Haste:

Your attacks have a 15% chance to grant:
-.5s

Swift Bow

Induction
-25% Attack Duration
Duration: 15s
+10 max distance for all ranged skills
These skills are acquired by spending trait points in the Bowmaster (red) trait tree. You can only obtain the Set skills if you specialize in this tree.