Bando Brandybuck
Jump to navigation
Jump to search
IMPORTANT: The content of this page is no longer accurate. i.e. it is OUTDATED.
Please check and update this article if appropriate, then delete this tag.
| | |
| --- | --- |
| | Bando Brandybuck |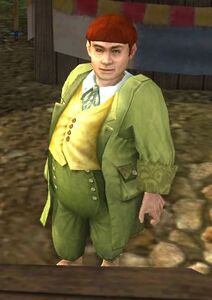 Description
Bando Brandybuck is, during Summer Festivals, a hobbit Race-master for the races that take place in the Taste of Hobbiton.
Quest Involvement
The Festival Races
How does the race work?
The races are run by four contestants in the Shire and at Thorin's Hall. You may place wagers on which contestant you think will win by accepting a quest associated with the contestant you favour.
The races will run approximately every nine minutes, and you have a one-in-four chance of winning!
To truly place a wager, you must first turn in a Race Token to me. Read my next comment to find out about Race Tokens.
Where do I get Race Tokens to wager?
Race Tokens are used to place wagers on the racing contestants.
These tokens can be obtained from Race Traders:
The Race Traders will give you a quest, and turning in that quest gives you a reward of 2 Race Tokens to be spent at the races.
The token-giving quests can be completed once every two hours.
Note: Tokens can also be acquired with LOTRO Points in the LOTRO Store.
Quotes
"Welcome to the Taste of Hobbiton! The race shall begin in three minutes"
"One minute only until the Taste of Hobbiton commences"
"On your mark...."
"Get set...."
"And they're off!"