Amon Mîn
Jump to navigation
Jump to search
"I like this land. It reminds me of the twilit wilds, far away in the North, where my heart remains." - Calenglad
Location Stub
This article or section is marked for missing location information.
Please visit Create new location and help expand knowledge about this wondrous place.
Needs Landmark Infobox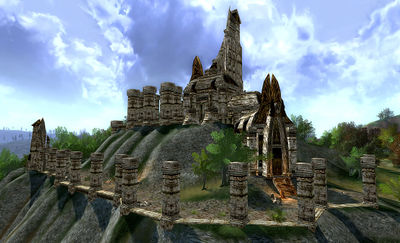 Amon Mîn is a location in the Windfells in Enedwaith. [63.1S, 18.4W]
The ranger Saeradan is encamped on the slopes below it as the Grey Company moves south.
Lore
Amon Min was once the foremost fortress of Gondor. Following Gondor's decline, they were forced to abandon Amon Min for the larger, more strategical fortress of Ost Dunhoth. Ost Dunhoth was abandoned shortly after and an evil power rose there.