Update 23.1.2 - Thursday October 25, 2018
Jump to navigation
Jump to search
Update 23.1.2 Release Notes
Here are the Release Notes for Update 23.1.2, released on Thursday, October 25th.
Of Special Note:
Tier 3 Difficulty
Tier 3 is a new challenge level that replaces the former T2C difficulty, and offers a new challenge in addition to new rewards! All current Update 23: Where Dragons Dwell instances are now available on Tier 3 Difficulty.
News and Notes:
Classes
The Hunter trait Endurance was adding a several thousand percent bonus to Parry and Evade, and has now been adjusted to no longer provide 100% avoidance.
Housing
Fixed an issue with the Cape of Belfalas Tol Falthui entry room where it would not consistently play music or display wall and floor decorations.
Players can now place doormats without having to be in their Treats or Trickery costume.
The following Property guards are now usable by anyone with the housing decoration usage permissions, and not just the owner:

Man Property Guard
Woman Property Guard
Variag Property Guard
Female Hobbit Property Guard
Male Hobbit Property Guard
Female Elf Property Guard
Male Elf Property Guard
Dwarf Property Guard
Hound Property Guard
Shieldmaiden Property Guard
Rohirrim Warrior Property Guard
Rohirrim Archer Property Guard
Rohirrim Knight Property Guard
Items
New items have been added to the Adventurer's Steel-bound Lootbox, including the Stalwart variant of the Grey Mountains Elite cosmetic armour set, a Visiting Banker (usable housing NPC that grants access to your character bank), a Black Mastiff pet, a new feathered Hooded Cloak of Roäc, a Fancy Hoodless Cloak, and the War-steed of Ered Mithrin, a collection box with the full set of war-steed variant appearances of the Steed of Ered Mithrin. These items are also now available for Figments of Splendour from the Adventurer's Quartermaster .
Adventurer's Steel-bound Lootboxes have had their item level increased to 370, and level 372 Essences are available as a rare drop.
Ironfold crafted bassoons have been fixed to grant the same amount of morale and power as other Ironfold instruments.
The reputation requirement for Ironfold Jewellery has been lowered from Kindred to Ally.
The Black Cat now properly appears in the Pet Collection.
Quests and Adventure Areas
Grey Mountains Expedition: Daily solo activities now award more reputation.
A Fortune of Harvest Spirit no longer tragically removes itself from quest log after a logout/login. The amount of required completions of A Spirited Harvest for A Bountiful Harvest has been reduced to account for the amount of time remaining in the festival.
Dwarf-holds Rewards Quartermasters have updated rewards for players who have finished Chapter 8.7 of the Black Book of Mordor.
The Quest Reclaiming the Grey (Final) now awards a Dwarrowmark.
Travel routes between Trollshaws and Eregion are no longer blocked at the tree ridge.
Corrected a looping travel route issue in the Lone-lands.
Ered Mithrin: Fixed several issues with the new and existing Wanted pebbles quests. These quests related to the Withered Heath can now be completed correctly.
Known Issues:
Lootbox Cosmetic Pets - Black Mastiff pet incorrectly uses the Farmer Maggot's Dog appearance and has a rabbit icon. Here is what it will look like when corrected: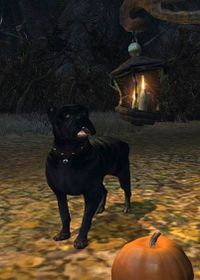 Source