User talk:Pakorn
Welcome to LotRO-Wiki!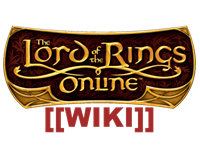 Hello, Pakorn, and welcome to LotRO-Wiki, the Lord of the Rings Online Wiki!
Thank you for your contributions, and we heartily encourage you to continue contributing!
Some useful pointers:
We hope you enjoy editing here!
Take a moment to create a User page for yourself (click on "User Page" at the top left of this page).
Just a couple of lines to tell us about yourself and your interests. It's a good way to practice editing!

Please remember to sign your name on talk pages using four tildes (~~~~) as this will automatically produce your name and the date.

Fictitious quests
Here at LOTRO-wiki, we are committed to documenting LOTRO, not creating content.
Please do not create fictitious quests and creatures. They are quite obvious and easily spotted, no matter how creative your writing.