User talk:Ilyarad
Welcome to LotRO-Wiki!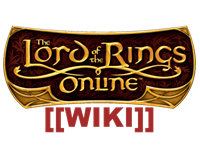 Hello, Ilyarad, and welcome to LotRO-Wiki, the Lord of the Rings Online Wiki!
Thank you for your contributions, and we heartily encourage you to continue contributing!
Some useful pointers:
We hope you enjoy editing here!
Take a moment to create a User page for yourself (click on "User Page" at the top left of this page).
Just a couple of lines to tell us about yourself and your interests. It's a good way to practice editing!

Please remember to sign your name on talk pages using four tildes (~~~~) as this will automatically produce your name and the date.

WIKI communications
Just a couple of quick comments.
Talk pages of individual users can be used to exchange comments with a particular person.
Discussion pages of individual pages (quests, items, etc.) can be used to discuss aspects of that particular page.
in the Left margin is "Recent discussions" with links to a generated list of recent postings to these various "talk" or "discussion" pages.
Also in the Left margin is "Recent changes" which shows pages which have been most recently modified.
Hope this information helps.
There is no "active" chat channel. An ICQ channel does exist, but it has not been used by anyone on any kind of regular basis for quite some time.
See Lotro-Wiki Contributors' Corner for details
IRC = Internet Relay Chat -- is what MSN and Steam (and the chat channels in LOTRO) were copied from.
F*a*cebook's Messenger is the same, as are any number of other similar "Services."
Mumble, is simply a real-time voice chat (also like Skype, Team Speak, etc.)
All of these "Services" are based on the same simple fact -- everybody has to be using the same "Server" at the same time.

The closest that the WIKI authors get to this is using IRC, but the simple fact is, very few people use such things anymore simply because they require that every participant be on-line at the same time. This is problematic for folks in different time-zones, such as Europe and say, the West Coast (California) of North America.

It is compounded on the WIKI by the fact that the number of authors has declined along with the size of the Player-base of LOTO.
Joining IRC is basically simple -- you need a program to access it. Chatzilla is one such program. It is a plug-in for Firefox. There are many others. Colloquy is one such for the Mac.
Just search for IRC or ChatZilla and read some of the links -- especially those at the WIKIpedia's.
Token of Valour‎
Thank you for your work in Item:Token of Valour‎, thanks and, keep it up :). I made a edit for the design of the lists. As I can remember, you will get the Token of Valour for nearly every quest in the PVMP Areas. Barny (talk) 18:37, 16 March 2016 (UTC)
very much thanks for the edit I didnt had much time at the end and I couldnt find how to do it more beautifully so I left it like that intending to improve it today you saved me lots of work now but could you tell me how can I get some space between the two chapter thingies? the tables Ilyarad (talk) 09:37, 17 March 2016 (UTC)

Please always in the user talk page User talk:Barny and not in the user page User:Barny.If you want to add all Quests, maybe you should use a Style like Item:Anfalas Scroll of Empowerment (Barter Information). Here you also see for the horizontal space the "width" of the column is defined. For the vertical space you have to split the tables and can do it with the enter key or you use "<br>". Barny (talk) 17:21, 17 March 2016 (UTC)