User talk:Herkittyness
Jump to navigation
Jump to search
Welcome to LotRO-Wiki!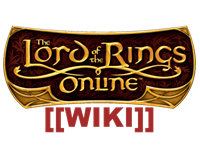 Hello, Herkittyness, and welcome to LotRO-Wiki, the Lord of the Rings Online Wiki!
Thank you for your contributions, and we heartily encourage you to continue contributing!
Some useful pointers:
We hope you enjoy editing here!
Take a moment to create a User page for yourself (click on "User Page" at the top left of this page).
Just a couple of lines to tell us about yourself and your interests. It's a good way to practice editing!

Please remember to sign your name on talk pages using four tildes (~~~~) as this will automatically produce your name and the date.

Crafting Guild details - Crafted LIs/Relics
From: Talk:Crafting "Added some meat/detail to the crafting guilds section. First time players should know something about the long view in terms of which crafting guild makes legendary for which class, except, ..."
I started playing with this issue last year, but never got very far with it. See: User:Magill/Projects-Crafting-2 Feel free to use or ignore...