Quest:Thunder in the Mountains
Jump to navigation
Jump to search
Walkthrough & Notes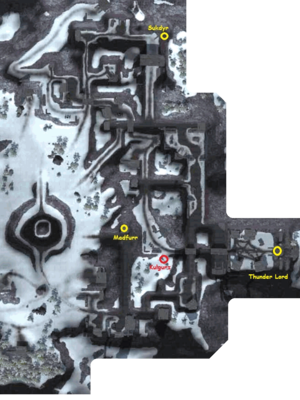 You will have to find your way through a stone maze to get to him. While running through this maze, try to go to the North and East as much as possible. At a certain point you will have to go to the North for a long time to be able to cross some stone bridges. These bridges will eventually lead you to the Thunder Lord.
The Thunder Lord is surrounded by lesser giants. It might be a good idea to pull these separately at first, so you won't be fighting them along him.
Quest Text
Bestowal dialogue
'The giants at the Giants' Table mentioned the Thunder-Lord, whom you can only assume is their leader. Perhaps if the Thunder-lord were defeated, the giants might turn from their wicked path.
'It is likely that the Thunder-lord rules from the furthest reaches of Iorbar, south and east of the Giants' Table. You should be wary, for he must be a deadly opponent, and only a determined party of warriors could hope to defeat him.'
Background
The Thunder-lord, leader of the giants, has ordered them to battle. If he can be defeated, this threat might fall with him.
Objective 1
The Thunder-lord rules the giants from Iorbar, south and east of the Giant's Table in the Misty Mountains.
The Thunder-lord is the source of the giants' recent hostility, and he must be defeated before all the giants in the region heed his commands. You will need the aid of brave allies if you hope to defeat him.
Objective 2
Talk to Golhador at the High Craig camp
Golhador is at the High Crag camp in the Misty Mountains, north-east of Rivendell.
You should return to Golhador and let him know that the Thunder-lord has been defeated.