Oath-bound Ally
Jump to navigation
Jump to search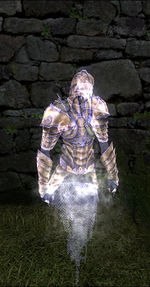 The Oathbreaker Herald is a special Herald that can only be equipped if the Captain has the Master of War legendary trait slotted. To get the skill, you need to have Kindred Standing with Iron Garrison Guards and get the book The Master of the Charge.
Level 10: Able to summon a default Herald to your side.
Level 20: Able to change the default Herald skin to different variations. This adds armor value.
Level 30: Able to convert your banner wielding Herald into an Archer.
Historically
This herald cosmetic can be bartered from a Captain Trainer for a Item:Receipt of Armament Exchange, and no longer requires kindred with the Iron Garrison Guards or the book Master of the Charge. This part is out of date as of Update 12, December 2013. There is no longer any traiting involved. For example, the Herald of Hope now provides +3% Physical and Tactical mitigation and no longer provides +1 Hope.
Stats

Name
Untraited
Traited
Herald of Hope
+1.3 in-Combat Morale Regen
+386.1 Morale
+126 in-Combat Morale Regen
+690 Morale
+1 Hope
Herald of Victory
+3.2 in-Combat Power Regen
+204 Power
+330.7 in-Combat Power Regen
+383 Power
Herald of War
+50 Agility
+50 Might
+60 Agility
+60 Might
Class Item
The following item may be used to provide armor for the herald and to change its appearance.
For more information on each item check out Captain Items Index