Jorfi
Jump to navigation
Jump to search
| | |
| --- | --- |
| | Jorfi |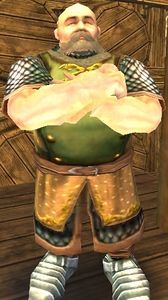 Description
Jorfi is a Race Trader who during Summer Festivals is found within The Keg-race of Thorin's Hall. The play-ground is entered via a horse that appears every 5th minute, next to the Stable-master of Thorin's Gate. [15.0S, 103.6W]
Quest Involvement
Barters
Item to Receive
Items to Trade
Emotes and Cosmetic Pets
 

Grant Hobbit Dance 4 Emote

50 Summer Festival Tokens
 

Grant the Fountain Emote

50 Summer Festival Tokens
 

Tome of the Sunny Summer Kite

35 Summer Festival Tokens
 

Tome of the Soaring Bird Kite

30 Mithril Coins
 

Tome of the Summer Flower Kite

50 Summer Festival Tokens
 

Tome of the Midsummer's Comet Kite

50 Summer Festival Tokens
 

Grant the Bubbling Fish Pipe Emote

50 Summer Festival Tokens
 

Tome of the Blue Peahen

50 Summer Festival Tokens
 

Tome of the Blue Peacock

50 Summer Festival Tokens
Summer Festival Cosmetic - New
 

Peacock Cap

15 Summer Festival Tokens
 

Peacock Bonnet

15 Summer Festival Tokens
 

Peacock Waistcoat

15 Summer Festival Tokens
 

Peacock Dress

15 Summer Festival Tokens
 

Picnic Dress

15 Summer Festival Tokens
 

Peacock Trousers

15 Summer Festival Tokens
Gift Boxes - New
 

Peacock Cap - Gift Wrapped

15 Summer Festival Tokens
 

Peacock Bonnet - Gift Wrapped

15 Summer Festival Tokens
 

Peacock Waistcoat - Gift Wrapped

15 Summer Festival Tokens
 

Peacock Dress - Gift Wrapped

15 Summer Festival Tokens
 

Picnic Dress - Gift Wrapped

15 Summer Festival Tokens
 

Peacock Trousers - Gift Wrapped

15 Summer Festival Tokens
Cosmetic Rewards - 1 Year Old
 

Short-sleeved Sunflower Tunic and Trousers

15 Summer Festival Tokens
 

Long-sleeved Sunflower Tunic and Trousers

15 Summer Festival Tokens
 

Sunflower Cloak

15 Summer Festival Tokens
 

Hooded Sunflower Cloak

15 Summer Festival Tokens
 

Short-sleeved Sunflower Dress

15 Summer Festival Tokens
 

Long-sleeved Sunflower Dress

15 Summer Festival Tokens
 

Sleeveless Sunflower Dress

15 Summer Festival Tokens
Cosmetic Rewards - Classic Rewards Part 2
 

Robe of the Wedmath Celebration

15 Summer Festival Tokens
 

Cloak of the Wedmath Celebration

15 Summer Festival Tokens
 

Hooded Cloak of the Wedmath Celebration

15 Summer Festival Tokens
 

Robe of the Midsummer

15 Summer Festival Tokens
 

Cloak of the Midsummer

15 Summer Festival Tokens
 

Hooded Cloak of the Midsummer

15 Summer Festival Tokens
 

Summerdays Dress

15 Summer Festival Tokens
 

Summerdays Tunic and Trousers

15 Summer Festival Tokens
 

Summerdays Cloak

15 Summer Festival Tokens
 

Summerdays Hooded Cloak

15 Summer Festival Tokens
 

Summerdays Hat

15 Summer Festival Tokens
Cosmetic Rewards - Classic Rewards Part 1
 

Cloak of the Summer Sea

15 Summer Festival Tokens
 

Mantle of the Summer Sea

15 Summer Festival Tokens
 

Cloak of Nárië

15 Summer Festival Tokens
 

Hooded Cloak of Nárië

15 Summer Festival Tokens
 

Surcoat of Nárië

15 Summer Festival Tokens
Cosmetic Rewards - Special
 

Turquoise Summer Circlet

10 Summer Festival Tokens
 

Sleeveless Elven Tunic

10 Summer Festival Tokens
 

Long-sleeved Summer Dress

10 Summer Festival Tokens
 

Sleeveless Summer Dress

10 Summer Festival Tokens
 

Short-sleeved Summer Dress

10 Summer Festival Tokens
 

Long-sleeved Summer Tunic and Trousers

10 Summer Festival Tokens
 

Short-sleeved Summer Tunic and Trousers

10 Summer Festival Tokens
 

Golden Tree Summer Cloak

10 Summer Festival Tokens
 

Summer Travelling Cloak

10 Summer Festival Tokens
 

Cloak of the Summer Sun

10 Summer Festival Tokens
 

Sun Hat

10 Summer Festival Tokens
Housing Rewards - General
 

Glowing Bonfire

15 Summer Festival Tokens
 

Smoky Bonfire

15 Summer Festival Tokens
 

Modest Cookfire

15 Summer Festival Tokens
 

Feast Day Cookfire

15 Summer Festival Tokens
 

White Wicker Chair

10 Summer Festival Tokens
 

Summer Hammock

10 Summer Festival Tokens
 

Mossy Wicker Chair

10 Summer Festival Tokens
 

Summerfest Painting

10 Summer Festival Tokens
 

Summerfest Bed

10 Summer Festival Tokens
Housing Rewards - Maps
 

Map of Lothlórien

10 Summer Festival Tokens
 

Map of the Ettenmoors

10 Summer Festival Tokens
 

Map of Caras Galadhon

10 Summer Festival Tokens
 

Map of the Northern Barrow-downs

10 Summer Festival Tokens
Consumables

5

 

Monster Fare

3 Summer Festival Tokens

5

 

Foul Blast

3 Summer Festival Tokens

5

 

Fire-breathing Potion

3 Summer Festival Tokens

5

 

Essence of Toad

3 Summer Festival Tokens

5

 

Mug of Triple Strength Brandy

3 Summer Festival Tokens

5

 

Mug of...Liquid

3 Summer Festival Tokens

5

 

Saffron's Lipstick

3 Summer Festival Tokens

5

 

Vile Vittles

3 Summer Festival Tokens

5

 

Pile of Mysterious Powder

5 Summer Festival Tokens
Summer Festival Steeds
 

Picnic Steed

40 Summer Festival Tokens
 

Caparison of the Perfect Picnic

40 Summer Festival Tokens
 

Saddle of the Perfect Picnic

40 Summer Festival Tokens
 

Basket of the Perfect Picnic

40 Summer Festival Tokens
 

Sunflower Steed

20 Summer Festival Tokens
 

Sunflower Head-piece

20 Summer Festival Tokens
 

Sunflower Caparison

20 Summer Festival Tokens
 

Sunflower Saddle

20 Summer Festival Tokens
 

Sunflower Tail-piece

20 Summer Festival Tokens
 

Basket of Sunflowers

20 Summer Festival Tokens
Summer Festival Steeds - Mithril
 

Summerdays Steed

70 Mithril Coins
 

Lithe Festival Steed

70 Mithril Coins
 

Pale Golden Summer Steed

70 Mithril Coins
 

Summerfest Steed

70 Mithril Coins
 

Steed of the Midsummer

70 Mithril Coins
 

Caparison of the Midsummer

70 Mithril Coins
 

Steed of the Wedmath Celebration

70 Mithril Coins
 

Caparison of the Wedmath Celebration

70 Mithril Coins
 

Steed of Nárië

70 Mithril Coins
 

Caparison of Nárië

70 Mithril Coins
 

Steed of the Summer Sea

70 Mithril Coins
 

Caparison of the Summer Sea

70 Mithril Coins
Dyes

6

 

Rohan Green Dye

8 Summer Festival Tokens

6

 

Sunset Orange Dye

8 Summer Festival Tokens

6

 

Shire Peach Dye

10 Mithril Coins

6

 

Dark Clay Dye

10 Mithril Coins
Essences and Legendary Items
 

Essence Reclamation Scroll

40 Summer Festival Tokens
 

Anfalas Star-lit Crystal

30 Summer Festival Tokens
Gift Boxes - 1 Year Old
 

Short-sleeved Sunflower Tunic and Trousers - Gift-wrapped

15 Summer Festival Tokens
 

Long-sleeved Sunflower Tunic and Trousers - Gift-wrapped

15 Summer Festival Tokens
 

Sunflower Cloak - Gift-wrapped

15 Summer Festival Tokens
 

Hooded Sunflower Cloak - Gift-wrapped

15 Summer Festival Tokens
 

Sleeveless Sunflower Dress - Gift-wrapped

15 Summer Festival Tokens
 

Short-sleeved Sunflower Dress - Gift-wrapped

15 Summer Festival Tokens
 

Long-sleeved Sunflower Dress - Gift-wrapped

15 Summer Festival Tokens
Quotes
How often does the race run?
'The race resets every nine minutes. You have three minutes to place you bets in the beginning, and then the contestants will have another three minutes to complete the course.
When all is done, everyone rests for three minutes more.'
'I offer a quest that gives betting Festival Tickets, and those tokens allow you to place your bets when a new race is about to begin.
The Race-master offers four quests -- one for each racer. Simply choose which racer you think will win, accept the corresponding quest, hand in your tircket, and hope for the best!'