Item:Universal Morale Potion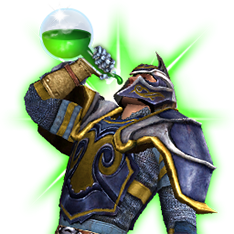 Universal Morale Potion
Consumed On Use

 

On Use:
Heals x - x Morale initially.
Heals x - x Morale every 2 seconds for 10 seconds.
Cooldown: 20s

 

 

"This draught provides a short, powerful burst of morale. The amount restored depends on your level."

 
Item Information
This item is a possible reward from Hobbit Presents.
      Morale
Level
Initially
Every 2 sec

| | | |
| --- | --- | --- |
| 1 | 40 - 50 | 10 - 12 |
| 2 | 48 - 60 | 11 - 14 |
| 3 | 56 - 70 | 13 - 16 |
| 4 | 64 - 80 | 14 - 18 |
| 5 | 72 - 90 | 16 - 20 |
| 6 | 75 - 94 | 17 - 21 |
| 7 | 78 - 98 | 17 - 21 |
| 8 | 82 - 102 | 18 - 22 |
| 9 | 85 - 106 | 18 - 22 |
| 10 | 88 - 110 | 18 - 23 |
| 11 | 91 - 114 | 18 - 23 |
| 12 | 94 - 118 | 19 - 24 |
| 13 | 98 - 122 | 19 - 24 |
| 14 | 101 - 126 | 20 - 25 |
| 15 | 128 - 160 | 26 - 32 |
| 16 | 131 - 164 | 26 - 33 |
| 17 | 134 - 168 | 26 - 33 |
| 18 | 138 - 172 | 27 - 34 |
| 19 | 141 - 176 | 27 - 34 |
| 20 | 144 - 180 | 28 - 35 |
| 21 | 149 - 186 | 29 - 36 |
| 22 | 154 - 192 | 30 - 38 |
| 23 | 144 - 180 | 30 - 38 |
| 24 | 149 - 186 | 32 - 40 |
| 25 | - | - |
| 26 | - | - |
| 27 | 161 - 201 | 34 - 43 |
| 28 | 165 - 206 | 35 - 44 |
| 29 | - | - |
| 30 | - | - |
| 31 | - | - |
| 32 | - | - |
| 33 | 185 - 231 | 39 - 49 |
| 34 | 189 - 236 | 40 - 50 |
| 35 | 194 - 243 | 41 - 51 |
| 36 | 200 - 250 | 42 - 52 |
| 37 | 206 - 257 | 42 - 53 |
| 38 | 211 - 264 | 43 - 54 |
| 39 | 217 - 271 | 44 - 55 |
| 40 | 222 - 278 | 45 - 56 |
| 41 | 228 - 285 | 46 - 57 |
| 42 | 234 - 292 | 46 - 58 |
| 43 | 239 - 299 | 47 - 59 |
| 44 | 245 - 306 | 48 - 60 |
| 45 | 254 - 318 | 50 - 62 |
| 46 | 264 - 330 | 52 - 65 |
| 47 | 274 - 342 | 54 - 67 |
| 48 | - | - |
| 49 | - | - |
| 50 | - | - |
| 51 | 298 - 372 | 58 - 72 |
| 52 | 307 - 384 | 60 - 75 |
| 53 | - | - |
| 54 | - | - |
| 55 | - | - |
| 56 | 346 - 432 | 68 - 85 |
| 57 | 355 - 444 | 70 - 87 |
| 58 | - | - |
| 59 | - | - |
| 60 | 384 - 480 | 76 - 95 |
| 61 | - | - |
| 62 | - | - |
| 63 | - | - |
| 64 | 461 - 576 | 92 - 115 |
| 65 | 480 - 600 | 96 - 120 |
| 66 | 490 - 612 | 98 - 123 |
| 67 | 499 - 624 | 101 - 126 |
| 68 | 509 - 636 | 103 - 129 |
| 69 | 518 - 648 | 106 - 132 |
| 70 | 528 - 660 | 108 - 135 |
| 71 | 538 - 672 | 110 - 138 |
| 72 | 547 - 684 | 113 - 141 |
| 73 | 557 - 696 | 115 - 144 |
| 74 | 566 - 708 | 118 - 147 |
| 75 | 576 - 720 | 120 - 150 |
| 76 | 586 - 732 | 122 - 153 |
| 77 | - | - |
| 78 | 605 - 756 | 127 - 159 |
| 79 | 614 - 768 | 130 - 162 |
| 80 | 624 - 780 | 132 - 165 |
| 81 | 634 - 792 | 134 - 168 |
| 82 | - | - |
| 83 | 653 - 816 | 139 - 174 |
| 84 | 662 - 828 | 142 - 177 |
| 85 | 686 - 858 | 150 - 188 |
| 86 | - | - |
| 87 | - | - |
| 88 | - | - |
| 89 | - | - |
| 90 | - | - |
| 91 | - | - |
| 92 | - | - |
| 93 | - | - |
| 94 | - | - |
| 95 | - | - |
| 96 | - | - |
| 97 | - | - |
| 98 | - | - |
| 99 | - | - |
| 100 | - | - |