Item:Marigold Property Guard
Jump to navigation
Jump to search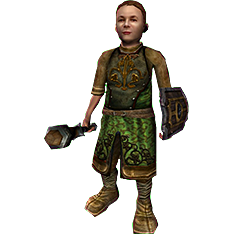 Marigold Property Guard
Decoration Category: Small Yard

 

On Use:

Summons Property Guard

 

 

"A hired guard tasked with protecting your property."

 
Item Information
The Marigold Property Guard is in the form of a heroic hobbit adventurer - namely Marigold Boffin.
The Marigold Property Guard is a Small Yard decoration you acquire to patrol your property.
As with other property guards, the Marigold Property Guard will cycle through various roaming and fidgeting animations on a regular basis.
The owner of the home can also use this decoration to summon the property guard as an NPC ally within the housing instance.
The features of the property guard are randomly generated.
Property Guards may be acquired for your home from the On-line Store or through certain Barter situations.
Barter Information
Barterer: Bert Bartleby (Bingo Badge Barterer, near Ost Guruth's Stable-master)
Gallery