Huntsman
Jump to navigation
Jump to search
This page is about the Hunter trait tree. For the Elder Spirit of Enedwaith and Dunland, see The Huntsman.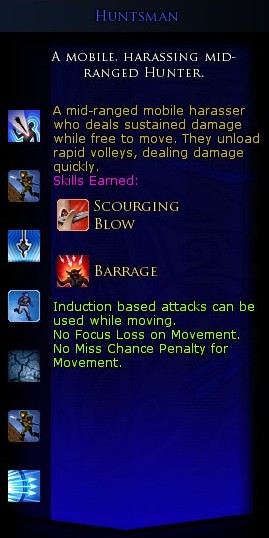 Huntsman (Blue line) is a Hunter Trait Tree. The other two trait trees of this class are Bowmaster and Trapper of Foes.
Huntsman
A mobile, harassing mid-ranged Hunter.
A mid-ranged mobile harasser who deals sustained damage while free to move. They unload rapid volleys, dealing damage quickly.
Skills Earned:
Induction based attacks can be used while moving.
No Focus Loss on Movement.
No Miss Chance Penalty for Movement.
These skills are acquired by spending trait points in the Huntsman (blue) trait tree. You can only obtain the Set skills if you specialize in this tree.