Hunbald
Jump to navigation
Jump to search
| | |
| --- | --- |
| | Hunbald |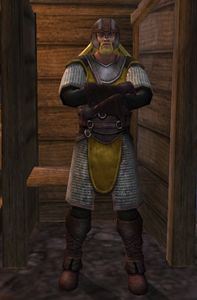 Description
'Yes?'
Hunbald is the guard at the Entwade Crossing of the Entwash in the Sutcrofts north of Snowbourn
Quest Involvement
Comments
Will you let us pass?

'I will not. It is the rule of Théoden King, and if you possess honour you will respect his command. You are to remain east of the Entwash unless and until the King revokes his command.'
He must.
What if we pass anyway?

'You and your companions seem to possess strength of will, it is true, and perhaps you could overpower me if the mood took you. But you would make an enemy of Théoden King and of his people, and you would not long survive in Rohan. You should keep that in mind, and let it master any hasty impulse.'
Perhaps.