Haflithi (Gath Forthnír)
This page is about the Light Armour Trader in Gath Forthnír. For the Beorning trader at the Dolven-view, see Haflithi (Dolven-view). For the Beorning trader in the 21st Hall, see Haflithi (Twenty-first Hall). For the Beorning trader in Bree, see Haflithi (Bree). For the quest NPC at Durin's Threshold, see Haflithi (Durin's Threshold). 
| | |
| --- | --- |
| | Haflithi |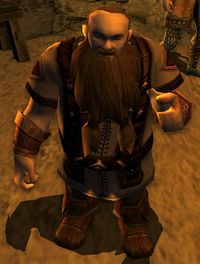 Description
Haflithi is a Light Armour Trader found at Gath Forthnír in Angmar. He allows players to barter various trophies from bosses in Carn Dûm, Urugarth and Barad Gúlaran as well as Writs of Angmar for pieces of Incomparable-quality armor.
Barters
Item to Receive
Items to Trade
 

Vile Silver Coin

5 Vile Bronze Coins

5

 

Infused Athelas Essence

s
5 Vile Bronze Coins

5

 

Infused Celebrant Salve

s
5 Vile Bronze Coins

5

 

Infused Milkthistle Draught

s
5 Vile Bronze Coins

5

 

Infused Lhinestad Draught

s
5 Vile Bronze Coins

5

 

Infused Healing Draught

s
5 Vile Bronze Coins

5

 

Infused Conhuith Draught

s
5 Vile Bronze Coins
 

Limdúr Gloves

 

Scrap of Wisdán's Cloak

5 Vile Silver Coins
 

Limdúr Shoes

 

Blade of Dúnachar

5 Vile Silver Coins
 

Limdúr Trousers

 

Breastplate of Gruglok

5 Vile Silver Coins
 

Limdúr Robe

 

Udúnion's Horn

5 Vile Silver Coins
 

Limdúr Shoulder Pads

 

Cloven Helm of Lagmas

5 Vile Silver Coins
 

Limdúr Hat

 

Helchgam's Beak

5 Vile Silver Coins
 

Limdúr Gloves

 

Writ of Angmar

5 Vile Silver Coins
 

Limdúr Shoes

 

Writ of Angmar

5 Vile Silver Coins
 

Limdúr Trousers

 

Writ of Angmar

5 Vile Silver Coins
 

Limdúr Robe

 

Writ of Angmar

5 Vile Silver Coins
 

Limdúr Shoulder Pads

 

Writ of Angmar

5 Vile Silver Coins
 

Limdúr Hat

 

Writ of Angmar

5 Vile Silver Coins